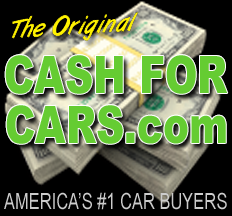 The Japanese brands are lasting 4 years longer than the American brands.
Seattle, WA (PRWEB) September 16, 2014
CashForCars.com has compiled their first ever "Top 15 Cash For Cars Requests." This data is being shared with the public for the first time and is a quick snapshot of the current used car market of consumers looking to sell their car. In August 2014, the following vehicles were the most requested quotes called in to the call center of CashForCars.com. Of interesting note is the 2001 and 2002 Ford Taurus holding the number one and number three positions respectively and the 1994 and 1997 Honda Accord taking spots two and four. "These results are pretty typical of what we'd expect based on the sales of the cars when new." said Dan Rosenberg, the Director of Marketing for CashForCars.com. "There is a good mix of American cars in there, but as the data shows, the average age of them is four years younger than the Japanese brands on the list, showing that the Japanese brands are lasting longer" Rosenberg added, "No matter what kind of car or truck someone calls in when selling a car, we'll buy them all, of course, but we especially love to buy the 2002 and newer damaged and non running vehicles!"
Top 15 Cars/Trucks Sold to CashForCars.com in August 2014.
Rank Year Make Model
1 2001 Ford Taurus
2 1997 Honda Accord
3 2002 Ford Taurus
4 1994 Honda Accord
5 1999 Ford Explorer
6 1994 Toyota Camry
7 2003 Chevy Impala
8 1997 Honda Civic
9 2000 Chevy Malibu
10 1999 Pontiac Grand Am
11 1998 Nissan Altima
12 2000 Dodge Caravan
13 2000 Chevy Blazer
14 1999 Cadillac Deville
15 1997 Toyota Corolla
Each month, CashForCars.com. will be publishing this TOP 15 list and will provide the first ever Cash For Cars Annual report, with all of the data from 12 months of car selling, in January 2015. They will also be doing weekly releases of "Cash For Cars of Interest" via their Twitter feed (@RealCash4Cars)
CashForCars.com is a leading online car buying company that purchases vehicles in all 50 states. They offer instant and guaranteed offers right over the phone, no matter the year, make, model, mileage, or condition of the vehicle. They are specialists in purchasing wrecked, damaged, broken, totaled, and just plain old ugly cars too. The national car buying center can be reached for instant offers at 1-800-227-4367 (1-800-CASH-FOR-CARS) or online at Cash For Cars. (http://www.cashforcars.com)