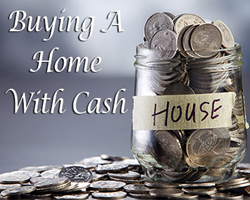 "Traditional home buyers are challenged on how to compete when they find themselves bidding alongside an all-cash home buyer." ~ Jenna Thuening
Twin Cities, Minnesota (PRWEB) August 23, 2013
The numbers indicate that July existing-home sales consist of strong percentage of all-cash home buyers, according to the National Association of Realtor's (NAR) August report. In fact, the numbers have been high for two consecutive months. All-cash home purchases made up 31% of property title transactions in both June and July. The number shows a sharp increase of 27% from July 2012. It is a strong signal that real estate investors are still buying up homes, which impacts the overall housing market.
"Twin Cities home sellers often prefer all-cash offers. Cash home purchases offers are easier to complete because they don't require a bank's approval based on either the value of the home or the financial status of the buyer," comments Jenna Thuening, owner of Home Destination. "And the buyer may capable of bidding higher because they will not be facing interest rate costs of paying back a mortgage loan."
The NAR report highlights the high percentage of all-cash home buyers that make up a huge share of July home purchases. Here is how it breaks down:

Distressed properties, comprised of home foreclosures and short sales – accounted for 15 percent of July home purchases, repeating June numbers and matching the biggest dip since monthly tracking started in October 2008. For the a bigger picture perspective, they stood at 24 percent in July 2012.
First-time home buyers absorbed a 29 percent share of home purchases in July. The number was a repeat from June; however it was considerably lower than the 34 percent reported in July 2012.
Individual real estate investors, comprise most home purchases with cash, making up 16 percent of homes in July, lower than the 17 percent in the previous month after pole jumping to a cyclical peak of 22 percent in February 2013.
In the Twin Cities, houses have been moving briskly in the first half of 2013, and sellers are in short supply, according to the Minnesota Areas Association of Realtors. Here is one way it can look: an individual investors (who is not using hedge funds), may have determined that there is a better use for their 401(k) investment funds or perhaps they just inherited money empowering them to step into real estate. With today's tight lending practices, getting a bank to back a single-family home purchase is challenging; therefore, home buyers have a position of strength when they can buy in cash.
"Given the high number of investors using money it this manner, it may bolster home prices enough so that Twin Cities homeowners who were underwater on their mortgages, can find they have sufficient home equity to have a profit margin if they list their homes for sale. On the other hand, investors could be pricing other prospective Twin Cities home buyers who want to own a house out of purchasing power", says Thuening. "To compete with cash buyers, some traditional home buyers are taking on additional risk. We are seeing more buyers agreeing to buy a home even if a property appraiser estimates a lower dollar amount than the home's listing price."
Quicken Loans Chief Economist Bob Walters predicted existing-home sales will continue to climb the remainder of 2013. "I think it will began to accelerate, seeing an increasing urgency on behalf of homebuyers," he said. When perspective Twin Cities home buyers perceive that costs to buy a home will be increasing, many of those who've been interested in listing their home, may well transition from being a bystander to involved and actively buying or selling a home.
NAR President Gary Thomas, broker-owner of Evergreen Realty in Villa Park, Calif., said more move-up buyers are using cash. "The overall percentage of cash purchases has been fairly steady, as has the share of first-time buyers, but the investor share has been trending down since February. This means more repeat buyers are using cash in this tight-credit environment," he said. "With a steady decline in lower priced inventory, particularly in foreclosures, investors are finding fewer bargains to buy."
Home Destination helps families searching to purchase Twin Cities homes with cash or mortgage financing to find just what they want. Call 612-396-7832 for a highly personalized guide for buying a new Twin Cities home.