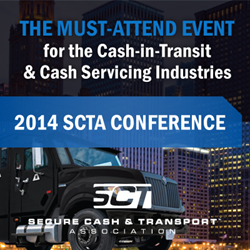 Purcellville, VA (PRWEB) August 05, 2014
The Secure Cash & Transport Association (SCTA) announces the speaker lineup for its 2014 Conference, taking place September 24-26, 2014 at the Hyatt Chicago Magnificent Mile. The annual event supports the SCTA's mission to protect, strengthen, and unite the cash-in-transit and cash servicing industries.
Highlights include:
Thomas Nollner from the US Treasury Department will speak on the topic of money laundering.
Alan Cox from the Financial Crimes Enforcement Network (FinCEN) will discuss the common carrier exemption.
Lance Ott, Board Member of the National Cannabis Industry Association (NCIA), will present a perspective on cash management in the legal marijuana trade.
Chris Smith, Agent of FBI Chicago, will discuss organized crime activity on CITs around Chicago.
Steve Son, Director of the Federal Reserve System Cash Product Office, will present the Federal Reserve's perspective on cash management.
David Tente, President of the ATM Industry Association, will discuss ATM jackpotting fraud and risk.
In addition, Harry Markopolos, the Bernie Madoff whistleblower, will offer the keynote address and seminar in which he will impart lessons that had to be relearned by capital markets due-diligence professionals, accountants, and regulators who were unprepared during the boom years of the Mortgage Backed Securities fiasco and Bernie Madoff.
Other notable sessions and speakers include: State of the CIT Industry presented by Marcus Hagegard, CFO, Loomis US; Outsourced Vaults presented by Joe DeSalvo of GardaWorld Cash Services; Bitcoin and Virtual Currency presented by J. Brent McCauley, Partner at Barack Ferrazzano; Scams: Precious Metals, Stones, and Rare Property presented by Graham Hawkins, XL London and Gary Tredgett, Ascot Underwriting Limited; Detection of Malware, a Radical Approach presented by David Glenn, Argus Technology; New Requirements for Third Party Risk Management for Banks presented by Laura Jones, Senior VP and Director of Risk, Network, and Division Compliance, Elan Financial Services; Money Laundering Panel Discussion; Retail Industry Perspective presented by Macy's; and CIT Industry Security Report for USA, Europe, and Latin America presented by: Mark Lowers, President of Lowers Risk Group and Andy Terrades, Director of Latin American Operations for Lowers & Associates.
View the full agenda here: http://www.securetransportassociation.org/files/SCTA-conference-2014-agenda.pdf
Details about the event and sponsorship opportunities can be found at http://www.securetransportassociation.org/sct-2014-conference/index.php
About the Secure Cash & Transport Association (SCTA):
The Secure Cash & Transport Association (SCTA) is a non-profit association established in 2013 to represent the shared interests of professionals and stakeholders in ATM servicing, cash handling/processing, transportation, and safekeeping of cash and coin throughout North America. Founding members include Cash Connect-ATM Solutions by WSFS Bank, Coin Wrap, Inc., Great American Insurance Group Fidelity/Crime Division, Griffin Incorporated, Loomis, Lowers Risk Group, Marshall & Sterling, Rochester Armored Car Company, Inc., Elan Financial Services, Willis Fine Art, and Jewelry & Specie USA. Industry groups represented by the association include armored operators, insurance providers, truck builders, financial institutions, ATM cash providers, coin wrappers, security surveys and compliance providers, and loss adjustors.