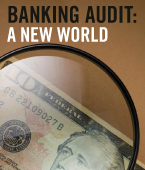 This whitepaper explains the value of professional cash management audits in light of today's regulatory environment.
Purcellville, VA (PRWEB) May 27, 2014
Lowers Risk Group (LRG), an international enterprise risk management consultancy, has published a new white paper describing the impacts of recent financial reforms under the Dodd Frank Act on the cash audit practices of banks. The whitepaper, entitled "Banking Audit: A New World," describes how the regulations explicitly impose responsibility on banks for the risk management practices of third party vendors.
These requirements increase the need for effective audit procedures that will bridge the gap between a bank and its vendors, including cash-in-transit service providers. The whitepaper summarizes the regulators' expectations for these audits, and outlines the vulnerabilities of the system that must be addressed.
The vulnerabilities of the partners in these systems include complacency, cost pressures, expertise, and objectivity, in addition to intentional fraud. These factors can be difficult if not impossible for the partners to control completely on an internal basis. A solution will depend on the quality of people, consistency of standards used, and their adherence to industry best practices. Often, a third party audit solution can be one method to ensure the most accurate and comprehensive results required for effective risk management.
Mark Lowers, President of Lowers Risk Group, remarks, "Financial reforms have placed the burden of risk management squarely on banks. Thorough professional audit procedures and controls for third party vendors, including armored carriers, are paramount to demonstrating their ability to comply with higher standards and gain a greater competitive advantage."
To download a free copy of the whitepaper, visit http://www.lowersriskgroup.com/lp/banking-audits.
About Lowers Risk Group
Lowers Risk Group provides comprehensive enterprise risk management solutions to organizations operating in high-risk, highly-regulated environments and organizations that value risk mitigation. The company's human capital and specialized industry enterprise risk management solutions protect people, brands, and profits from avoidable loss and harm. With Lowers Risk Group you can expect a strategic, focused approach to risk assessment, compliance, and mitigation to help drive your organization forward with confidence. Learn more about LRG at http://www.lowersriskgroup.com.
About Lowers & Associates
A Lowers Risk Group company, Lowers & Associates (L&A) is an internationally-recognized independent risk management firm. Armed with extensive industry know-how, L&A is uniquely qualified to provide expert independent cash audit and compliance monitoring services that address the exposures to loss that financial institutions and their CIT and/or ATM partners face on a day-to-day basis. L&A conducts periodic independent audits of cash and coin assets that are in the care and custody of third-party CIT and/or ATM service providers. Learn more at http://www.lowersrisk.com.