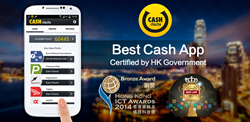 Earn cash and rewards with CashChaCha easily.
(PRWEB) July 17, 2015
CashChaCha Inc. has entered into a definitive merger agreement under which they will acquire Showbox Media (Hong Kong) Limited. Showbox Media Limited is the developer of Showbox, which is Asia's most popular Android lock screen advertising app. The acquisition enables CashChaCha Inc. to serve the global community at a greater scale by combining their resources and strengthening CashChaCha Inc.'s advertising database in Asia.
Showbox Media (Hong Kong) Limited is a leading solution provider for lock screen advertising, they have operations in Hong Kong and businesses in Greater China region. They help companies to develop lock screen and offer wall functions on their Android apps as part of the customer loyalty program, in which users can earn cash or rewards as an incentive of viewing ads on their smartphone's lock screen. Users can also earn rewards by downloading apps, watching videos, filling out a questionnaire, making a small purchase, or completing other tasks.
According to Bill Graham, the CEO of CashChaCha Inc., "The successful completion of the acquisition represents a major milestone for CashChaCha. We are very proud that Showbox was the winner of Hong Kong ICT Awards 2014: Best Mobile Apps and 2013/2014 Asia Smartphone Apps Contest. It is the only incentive advertising app in the world certified by the government. Its excellent customer reference and user base fits well into our strategic vision."
Once the acquisition is complete, http://www.cashchacha.net will become the official website for both apps. And Showbox users virtual points will remain unchanged after the merger. Meanwhile, CashChaCha Inc. is introducing a brand new referral commission scheme to offer users the opportunity to receive a 10% commission on their account for providing a referral. If User B enters User A's referral code during account signup, then User A will receive 10% of the points that User B earned at the end of the month. User A will have access to these points at the start of the following month.
"Now CashChaCha advertisers have a new option to capture eyeballs every time consumers unlock their smartphone screens." said Bill. "It is actually a win-win solution for both advertisers and consumers. Traditional mobile ads are either small or annoying, and the user experience is very bad in the small screen of smartphones. With ads on lock screen, advertisers get the best place on users' smartphone and users can earn rewards and cash by viewing the ads."
Those who are ready to make better use of their smartphone and earn rewards by downloading apps can download the latest version of CashChaCha Inc. at https://play.google.com/store/apps/details?id=com.media.showbox.
About CashChaCha Inc.
CashChaCha Inc., previously known as Showbox, is the best rewards app and one-stop offerwall solution. They aim to serve the global community by providing the only money making app in the world that is certified by the government. For more information, please go to: http://www.cashchacha.net/.