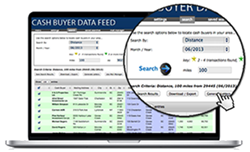 Having phone numbers for these cash buyers has helped me save even more time. All I have to do is search and call. That's it!
Orlando, FL (PRWEB) February 06, 2014
In order to be successful as a real estate investor, having access to cash home buyers is very important. Cash buyers are always hungry for good deals and are an easy way for an investor to sell fast and make a profit without the hassles that come with other buyers or lenders.
Cameron Dunlap, the owner and creator of CashBuyerDataFeed.com, has been investing in real estate for over two decades and deals primarily with cash home buyers. Just like many other real estate investors, Dunlap has gone through the process of searching through public records to find active cash buyers and contacting them.
Cameron has always prided himself on providing high quality and effective resources to his students. It is time consuming and costly to spend hours searching for cash buyers. That is why he built the Cash Buyer Data Feed. He wanted to give real estate investors nationwide the opportunity to easily and quickly find cash buyers in all of their markets.
The next step after finding a qualified cash buyer is to reach out to them. This can prove to be quite intimidating to many investors as well. Professionalism is crucial to making a good impression, so it can be a scary proposition to call a cash buyer and 'wing it'. In order to establish credibility with a cash buyer, one must sound experienced and knowledgeable from the start.
Cash buyers know that there are massive amounts of investors they can do deals with, so they won't mess around with a person or deal they don't think is worth their time. In order to make a good impression, one must stand out from the competition.
He knows the value of being able to pick up the phone and call a cash buyer. Phone numbers are harder to find so competitors are less likely to have access to them. The good thing is, once you have a phone number, it's easy to use if you know what to say.
Members of the Cash Buyer Data Feed now have access to a proven phone script that Cameron wrote and uses himself. Without a phone script or some knowledge of how to talk to cash buyers, most investors will find it hard to get cash buyers that are interested in working with them. Once a cash buyer has turned an investor down, it takes twice as much work to prove their credibility in the future.
Keith, an active Cash Buyer Data Feed user, has this to say about the new upgrade, "I can't believe how easy it is to find and contact these cash buyers now. Having phone numbers for these cash buyers has helped me save even more time. All I have to do is search and call. That's it!"
If a phone number is not provided, it is still possible to contact the cash buyer. There is a Mail Manager feature in the Cash Buyer Data Feed that gives users the ability to create or customize post card or letter templates, select a list of recipients, and place an order for a direct mailing to be sent. Direct mail is still one of the most effective means of marketing, and since not all phone number can be found on public record it is important to have a simple and fast way to contact cash home buyers by mail.
The Cash Buyer Data Feed has all of the tools and resources needed to search for, organize, and contact cash home buyers nationwide.
Find details on the Cash Buyer Data Feed system and the new upgrade by visiting http://www.CashBuyerDataFeed.com or try out the system for 30 days risk free.