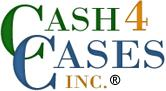 It is comforting to know that we are making customers comfortable with the funding from beginning to end
New York, NY (PRWEB) March 03, 2014
Cash4Cases, Inc. has been awarded top ranking amongst its competitors for customer satisfaction and lowest interest rates. Owner and CEO, Jaeson Birnbaum stated that he is delighted to receive the acknowledgment. "Clients apply to our company looking for funds during their time of need. Often they are out of work due to the injuries suffered regarding their lawsuit. It is comforting to know that we are making customers comfortable with the funding process from beginning to end."
Ten-year-old Cash4Cases Inc. is a nationally recognized lawsuit funding company that advances money to people waiting for the outcome or payout from a lawsuit, personal injury case, product liability or medical malpractice lawsuit. This is known as a "lawsuit funding" or "pre-settlement funding." To date Cash4Cases has advanced funds to approximately 5000 clients totaling over $18 million.
Financially strapped litigants often look to lawsuit advance companies, like Cash4Cases. These litigants often can't work due to personal injuries and are looking for a resource to pay bills until their settlement comes in or they are well enough to work. Often, these victims can't wait years for their settlement money, that's why they look to companies like Cash4Cases.
The Firm interviewed one such applicant, Nellie V. of Brooklyn who stated, "Cash4Cases got me the money I needed quickly before my landlord was able to evict me and my family. They have really come through for me and for that I am grateful."
Cash4Cases has some of the nation's lowest percentage rates for advancing cash for pre-settlement cases. Jaeson Birnbaum states that, "Cash4Cases is very conservative when lending money, and usually won't lend higher than 10% of the foreseeable settlement amount. Often we advise clients to limit their advances to a small amount initially, so that less interest is paid later on." With 10 years of experience, Cash4Cases has seen other smaller lawsuit funding companies charge very high interest rates to litigants. Often times, these less experienced lawsuit funding companies will charge unnecessarily high interest rates to offset their often risky funding behaviors.
Lately, Cash4Cases has been seen as an industry leader. Other "legal funding" companies charge very high interest rates, and will not fully explain to an applicant the way these interest rates can surmount over time. Cash4Cases has developed a proprietary contract system that shows litigators the actual amount of money each month as to how their interest on the advance will accrue. This easy to interpret agreement and a number of new full time customer service reps has helped Cash4Cases expand to become an industry leader.