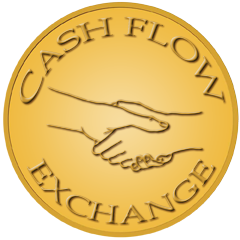 Schaumburg, IL (PRWEB) February 16, 2015
Get great cash flow today. Receive a lump sum or monthly installments.
A new way to exchange cash flows is now available on-line. Sellers can exchange monthly installments for a lump sum (at a slight discount). Buyers can exchange a lump sum for monthly cash flow This can all be done on-line and is all automated.
Business Description
-- CashFlow Exchange is the premier broker and market-maker for selling and buying assignable financial instruments:
-- CashFlow Exchange is completely internet-based
-- CashFlow Exchange can help get the best value for financial instrument
Mission:
-- To create an efficient online cash flow market
-- To effectively link buyers and sellers to achieve the best value for both
-- To keep all data safe, secure and confidential
Vision
-- Our People : CashFlow Exchange will provide a superb place to work where people are excited to be the best they can possibly be, and where they can achieve self-actualization.
-- Our Productivity : CashFlow Exchange will strive to be a highly effective, efficient, trustworthy market-maker and value-adding organization.
-- Our Market: CashFlow Exchange will encourage a winning network of sellers and buyers,who together will create a win-win, lasting value.
-- Our Finances: CashFlow Exchange will optimize investors' returns , while carefully managing responsibilities.
CashFlow Exchange is a cash flow market-maker or intermediary. CashFlow Exchange introduces buyers and sellers of assignable contracts to the mutual benefit of both parties using advanced matching algorithm.
Possible buyers:

Factoring companies
Finance companies
Private investors
Commercial investors
Fifty-plus possible sellers/contract types:
A fraction of which are sampled here:

Accounts Receivable (Invoices)
Bankruptcy Receivables
Collectibles Notes
Commercial Deficiency Portfolios
Consumer Deficiency Portfolios
Lottery Winnings
Privately Held Mortgage Notes
Retail Installment Contracts
Secured Non-Performing or Delinquent Debt
Structured Settlements
Tax Liens