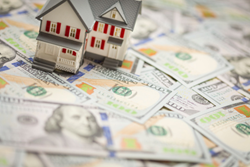 Consumers spent time working and saving money through the recent recession and now they are using the cash they saved to make home purchases
Oklahoma City, OK (PRWEB) May 29, 2014
A traditional home purchase requires a 20 percent down payment, a good credit score and a stable job history, but tides have shifted throughout the nation. Prudential Alliance Realty Oklahoma reports that all-cash sales are up in the U.S., creating a unique environment for home buyers.
Citing survey data from the National Association of REALTORS®, Prudential Alliance Realty reports that 33 percent of all existing homes sold in the country in the first quarter of 2014 were made with all cash. That figure is up from 31 percent in all of 2013 and 29 in 2012.
"One of the main reasons there is such a large increase in cash transactions is that people have cash," says Sheldon Detrick, CEO or Prudential Detrick Alliance Realty. "Consumers haven't been buying houses for the past five to six years and have been saving their money and accumulating cash instead. Consumers spent time working and saving money through the recent recession and now they are using the cash they saved to make home purchases."
What does this mean for the housing market? The increase in all-cash sales shows the overall strength of the real estate market, and that people are confident in its stability.
RealtyTrac recently released a similar report, which found that more than four in 10 residential property sales in the first quarter of 2014 were conducted with cash-in-hand. Inventory shortages and tightening lending restrictions are playing a role.
"One of the other reasons driving the increase in cash transactions is the stringent underwriting mortgage guidelines we are dealing with as a result of the Dodd-Frank legislation," Detrick continues. "Its rigorous procedures and guidelines are so strict that some people have no choice but to pay with cash. Although this accounts for a smaller portion of cash buyers, it still adds to the already large number of cash transactions."
Home buyers are also shifting gears as the environment for cash investments is changing. While in the past buyers were advised to take out a loan on a home and invest their cash funds into something different, cash investment opportunities are much harder to come by. This is starting to change the face of home purchasing in general, as home buying is a great place to invest cash.
In Oklahoma City in particular, the housing market has been posting great gains in 2014, and as median single-family home values trend upward alongside demand, this region will continue to attract home buyers.