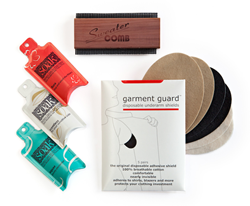 It makes cleaning cashmere both faster AND cheaper than taking it to the cleaners, so who wouldn't use this?
Ketchum, Idaho (PRWEB) February 28, 2014
By now, most people are aware that cashmere is better served being hand washed than saturated with chemicals by the dry cleaner. But who has time to scrub sweaters by hand and pick off each and every fuzz ball? And, after investing in cashmere, who has any leftover money to fork over to the cleaners? To answer many fashionistas' cry for help, Fashion First Aid put together the perfect kit to make washing cashmere quick AND affordable.
Simply add one packet of Soak Wash to a vessel of cool water, toss in your cashmere, and walk away and let the Soak Wash do its job for 15 minutes. Remove the garments, roll in a towel to remove excess moisture, and lay flat to dry. (Notice no scrubbing, rinsing or wringing required. You're welcome, hands.) Once dry, use Sweater Comb to easily de-pill. Finally, place Garment Guard disposable underarm shields on the sweater to keep that area free of sweat and deodorant and increase the number of wears between washes. (See attached video for a demonstration of how easy this is.)
The Cashmere Care kit contains three packets of Soak Wash, one Sweater Comb, and 10 pieces of Garment Guard for $26.95, and is available on amazon.com and FashionFirstAid.com. A deluxe version is also available for $39.95 and also includes The Dirty Side of Fashion interactive book and a mesh Delicates Defender wash bag.
Fashion First Aid (Solutions That Stick Inc.) invents and manufactures both wacky and useful personal care products that you will never see someone else wearing, unless you take off his/her clothes. Based in Ketchum, ID, founder and chief inventor Kim Leone Olenicoff Castellano began in 1999 with one product, Garment Guard: disposable underarm shields (because she was a broke law student who was tired of her expensive white t-shirts getting ruined by underarm taco stains.) Now, with over 40 products on the market, over 10 in the works, and a light and upbeat book entitled The Dirty Side of Fashion, the corporate mission is still to save the world from fashion emergencies and help make clothes last longer.