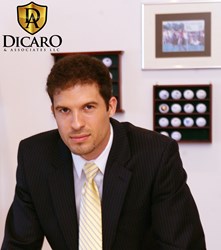 First impressions are lasting impressions. Prepare the note documents before that first call is made.
Chicago, IL (PRWEB) December 24, 2013
There are a variety of ways to sell a receivable secured by real estate. DICARO & ASSOCIATES, LLC shares their 5 best tips for selling a mortgage note for top dollar to a national note buyer.
1. Organize the information. There is nothing worse than a disorganized note holder that doesn't know anything about the asset they are trying to sell. Before a single phone call should be made to prospective note buyers, the holder of the mortgage should gather all of the documents that were created in the original transaction. Usually these documents include the following: the note or promissory note, mortgage or deed of trust document, settlement statement or closing statement, in addition to a copy of the home owner's insurance policy (hazard insurance policy), a copy of the lender's title insurance policy (if applicable), proof of the down payment, and proof of the last 12 months of payment history to show a history of the borrower's performance (1 - 3 months is usually the minimum acceptable amount).
2. Don't shop it to death. In order to arrive at an accurate purchase offer for the real estate note in question, note buyers will review a credit profile of the borrowers before committing to any purchase amount. If the credit is checked too frequently, the borrowers' credit will be negatively affected thus lowering the mortgage note holder's final amount they will receive. Additionally, many national note buyers will not purchase any note which was listed on an exchange type website or posted on a public forum, so shopping for best pricing should be limited to no more than 3 offers from 3 different companies.
3. Get bids in writing and ask for explanations of pricing. If it's not in writing, was it really ever agreed upon? Nicholas di Caro, Senior Investment Partner of DICARO & ASSOCIATES, LLC says "The faintest ink is much better than the brightest memory". After the written offers are received the mortgage holder should ask the note buyer how they arrived at that offer. They should also ask about the note buyer's investment criteria to get further insight into how they make their investment decisions. After all, different companies have different investment objectives.
Nicholas di Caro is the Senior Investment Partner for DICARO & ASSOCIATES, LLC. Operating in all 50 states from their Chicago, Illinois location, they invest in performing and non-performing real estate notes from $5,000 to $5,000,000. They are actively buying privately held mortgage notes, deeds of trust, and land contracts secured by single family residences, mobile homes with land, and commercial properties. They have the ability to buy notes that other companies have denied, in addition to providing creative purchase options that are new to the industry. Learn more at http://www.nicholasdicaro.com