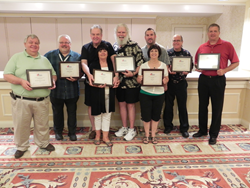 'The industry's only recognition program for Casino Party Operators; the winners shine in the spotlight.' - Steve Phillips, Chairman, NACPO Awards Committee
Las Vegas, Nevada (PRWEB) August 26, 2014
NACPO,The National Association of Casino Party Operators, an organization of nearly 50 company members, nationwide, who produce the finest in casino fun night parties in the country hosted its annual national convention on July 16, 2014 at the Monte Carlo Hotel in Las Vegas, Nevada. At the convention, NACPO chose the award winners for various categories to honor and celebrate the achievements and the exceptional work of its members. The awards winners were determined based on events occurring between July 2013 and June 2014.
It is with great pleasure NACPO announces the following winners:
Best Fundraiser - Larry McKenzie and Anne Marie Scharaldi-Uptown Entertainment-Lockport, NY
Largest Production over 10K - John Ferry - Gameco - Parma, OH
Best Production under 10K - Steve Phillips - Show Biz Productions- Washington, DC
Most Innovative Operator - Matt D'Ercole - Always Fun Casino - Centreville, VA
Croupier (Dealer) of the Year - Bernie Stevens - Bernie Stevens & Assoc.-Chagrin Falls, OH
Largest Party - Dorothy Scrabala-Casino Knights-San Diego, CA
Best Solution to Logistical Issue - Bernie Stevens-Bernie Stevens & Assoc.-Chagrin Falls, OH
Best Website - Mike Miller-Casino Party Planners-Ocala, FL
About NAPCO:
The National Association of Casino Party Operators is the only professional organization in the United States that specializes in casino parties and casino themed events. As a national association, NACPO members benefit from a wide and diverse set of experiences and talents. By being geographically widespread, the association members cooperate with each other in ways competitors won't. This helps make NACPO members the best casino party operators in the country – your trusted source for a professional and high quality casino party!
To find a professional in your area, for your special event, or, to join as a member, please visit our website: http://www.casinoparties.com.