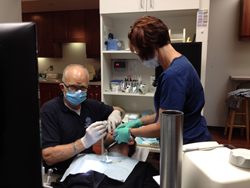 We treated 20 patients with various procedures ranging from extractions to even cosmetic procedures
Casselberry, FL (PRWEB) March 11, 2014
Casselberry dentist Dr. Tim Chatterley helped residents of Casselberry during this difficult econogomic period by giving a day of free emergency dental treatments on February 28, 2014.
The Emergency Dental Treatment Day was designed to treat anyone (adult or child) for free who has a dental emergency and who cannot afford dental care on a first-come-first-served basis.
Dr. Chatterley noted that many people have lost their dental coverage due to the bad economy and are having to forgo dental care, which put them in danger of tooth decay and gum disease that contributes to problems associated with diabetes, liver and heart problems.
"We treated 20 patients with various procedures ranging from extractions to even cosmetic procedures," said Dr. Chatterley. "We gave more than $ 2,600 in free dentistry."
In addition to free dental day, Dr Chatterley has also held numerous community events including food drives, and also Do A Good Deed contests which inspired youths to focus on performing good deeds.
"I would like to do my part as a dentist to help and hope other healthcare providers would join me and organize a similar effort in their community to help keep our fellow Americans healthy," explained Dr. Chatterley dentist Casselberry FL.
Dr. Chatterley added, "We will be conducting similar community events in Casselberry periodically throughout the year to help the less fortunate in our community."