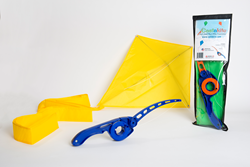 It's amazing how easy it is to get a kite into the air! Great toy-well made.
Monroe, NY (PRWEB) November 18, 2015
Castakite (TM), the kite launcher with a fishing pole design that truly makes kite flying child's play, is now available in new flyer handle/kite color combinations in time to delight children for the 2015 holidays.
Created by an avid kite flyer, a pilot and an MIT engineer, the Castakite EZ Kite Flyer enables children as young as 4 years old to know the joy of kite flying without the tangles, line burns and frustration of conventional kite winders and spools.
Parents love that it gets kids off the couch and outdoors for an activity the family can enjoy together. Castakite also can open up the world of kite flying to wheelchair-bound children, as there's no need to run to catch the wind to send a kite soaring!
Originally sold in combinations of blue and orange flyers with a lime green diamond kite, the Castakite EZ Kite Flyer now also is available in black or purple, paired with either the lime green or a red, yellow or blue kite.
The fully-assembled flyer comes pre-strung with 150 ft. of quality kite string and packed with a nylon diamond kite and tail (though it works as easily with any 15"-60" kite). After easy kite assembly and attachment to the flyer, hold up the kite with your back to the wind while pressing the ridged grooves on the flyer with your other hand to release the line, and you're flying. The reel mechanism makes it easy to control the altitude or retire the kite for the day.
Designed and manufactured in the USA, the Castakite EZ Kite Flyer is available online at http://www.castakite.com and at select outdoor sporting goods and toy retailers nationwide (retail locater app on the website); MSRP is $24.95.
For press inquiries, review samples or other media questions, please contact greg(at)castakite(dot)com.