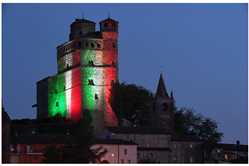 NEW YORK (PRWEB) June 22, 2020
People of the Langhe have come together to show their true colors in support of a brighter future. The historic Castello di Serralunga d'Alba, a 14th century military fortress located in the heart of one of Italy's most prized winegrowing regions, beams with the nation's colors as a sign of the country's dedication to reemerging with strength as the national lockdown ends. A local taskforce, comprised of over forty regional supporters, including wineries, restaurants, hotels, and local tourism boards, has united with the mayor of Serralunga d'Alba, Sergio Moscone, to spearhead the initiative. Viticulture is part of the foundation of Italy's identity and the Langhe, the birthplace of Italian wine history, stands as a symbol for a promising future.
"Langhe is the beating heart of Italy, a symbol of the winemaking culture in our county," states Mayor Sergio Moscone, "The Covid-19 pandemic created a sense of uncertainty for us all, but we have come together to share our resistance and strength, and commitment to the future of winemaking, hospitality and tourism in our region. The castle shines bright in memory of the past and acts as a light that guides us towards more fortunate days ahead."
A nationwide lockdown put Italian residents in extreme quarantine conditions as authorities worked diligently to slow the outbreak of Covid-19. Italy has been one of the worst-hit countries in the world and only now, months later, are they beginning to regain their freedom again. Fortunately, wineries were authorized to remain operational during this time, and production efforts proceeded following social distancing regulations. As Italy's recovery begins to gain momentum, winemakers and other regional artisans and business owners are planning their next steps.
The illuminated Castello di Serralunga d'Alba, a majestic monument surrounded by vineyards, will light up the land of Serralunga from 8:30pm-1:30am each night, a beacon of hope and encouragement for the next phase in Italy. As wine rooms and restaurants reopen, and hotels, national parks and monuments slowly begin to welcome travelers from near, and eventually far, the Langhe remains a place of fortitude; waiting for visitors with open arms and full glasses of Barolo.
For aerial views of the grandiose castle, see this video. Italian residents and those who visit Serralunga can enjoy the lights through the beginning of summer.
About Colangelo & Partners
Colangelo & Partners specializes in premium food, wine and spirits brands, and has long established relationships with the key press that drive these business categories and help determine the industry leaders. Agency principals have years of experience in retail and distribution as well as communications, a rare combination that gives Colangelo & Partners invaluable insights into consumer purchasing behavior. The agency focuses on 'closing the loop' between creative communications programs, distribution, promotion, publicity and the consumer in order to maximize the efficiency of its communications programs and deliver measurable results. Founded in 2006, Colangelo & Partners was honored as one of the year's top integrated communications firms at the 2013 Agency Elite Awards and for one of the best digital marketing campaigns at the 2014 Digital PR Awards. http://www.colangelopr.com/