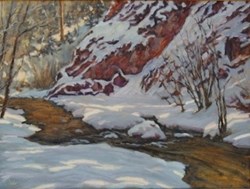 A breath of fresh light on canvas! - Wiz Allred, Owner of Desert Moon, Art Reference Book Designer and Publisher for over 40 years
Santa Fe, New Mexico (PRWEB) November 25, 2013
Plein air painter Chuck Volz in not just a painter but a poet. His latest show "Winter in Santa Fe- Haiku in Form" opening on Dec. 13th at Casweck Galleries is full of the poetry of Northern New Mexico. Volz, whose work is representational, is still largely interpretive and impressionistic. The light and color he observes in the natural world is transformed into a canvas full of light and color. "I can actually watch the painting change as the light of day passes over it. It's glorious to see, so I keep one very near my desk," says Gallery Director Debrianna Mansini.
Volz studied art at the University of Oregon but had a long career in banking before he turned to painting full time in 1990. American landscape painter Ray Strong, who began the Oak Group and influenced an entire generation of landscape painters, became a friend and mentor for Volz. "Ray introduced me to the physics of light and color," Volz says. He showed me the personal poetry of painting – the mystery, the majesty, the harmony."
Volz adopted the idea of the minimalism in haiku into his own works, accompanying many of his works with a haiku. The idea of less is more, the essences of haiku is what underlies the work of Chuck Volz. A haiku uses a minimum amount of words, 17 syllables in fact, to describe what should be mundane subjects of nature in the most evocative and concise way possible. "Volz's paintings, luckily for us, do the same," Mansini says.
Volz's "Winter in Santa Fe-Haiku in Form" opens at Casweck Galleries on December 13th at 5:30 PM. Since it is the season of giving, and less is not more when it comes to eating, the Gallery will host the Food Depot at the show.
"Being in this Gallery, seeing Chuck's work, I am reminded of how lucky I am to live well here in Santa Fe," Mansini says. She says that realization is one of the reasons the Gallery has teamed up with the Food Depot again. "Our last event with "Art Matters|Santa Fe" filled a large container with food as well as with some cash donations. We hope to add to that this holiday season." The Gallery will welcome non-perishable food items for the bin and of course, cash donations will be accepted.
"Hunger is a word that exemplifies haiku," Mansini says. "That one word tells you all you need to know. In New Mexico, one in three children and one in five adults experience hunger. It's a small word with deep meaning, kind of like Chuck's paintings. We want to see you enjoy and own a painting while we help to end hunger in New Mexico."
About the Food Depot:
The Food Depot is committed to ending hunger in Northern New Mexico. As the food bank for nine Northern New Mexico counties, The Food Depot provides food to 135 not-for-profit agencies including emergency food pantries, hot meal programs, homeless shelters, youth programs, senior centers, homes for the mentally disabled and shelters for battered persons. This service enables these agencies to stay focused on their primary missions such as sheltering homeless families, providing hot meals to the home bound and offering life skills development to youth. The food bank distributes an average of 400,000 pounds of food and household products each month, providing more than 500,000 meals to people in need - the most vulnerable of our community – children, seniors, working families and those in ill health.
About Casweck Galleries:
Casweck Galleries is known for its extraordinary collection by the famed Ernest Chiriacka. Mr. Chiriacka was a famous illustrator during the heyday of illustrators, working for such great publications as Saturday Evening Post, Colliers and Esquire. Mr. Chiriacka illustrated the Esquire Pin Ups for many years and also illustrated over 550 pulp covers.
Casweck Galleries is located at 203 West Water Street, Santa Fe, NM, 87505. For more information, call 505-988-2966 or visit http://www.casweckgalleries.com.