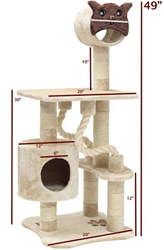 Carpet-and-sisal covered cat trees are fine for cats, but can be something of an eyesore for people. Elegant, custom cat perches are much more subtle and eye pleasing, and allow cats to get higher up in a room without sacrificing any floor space.
(PRWEB) October 03, 2014
HomeThangs.com – the Online Home Improvement Store has made it their goal to deliver the right product to the consumer. With that in mind, shopping and home design tips, as well as special product selections are being introduced.
Cat trees are a traditional piece of furniture for cat owners, but they can be a bit inelegant. Building a custom cat perch or cat walk is a great way to allow cats room to roam freely while adding a slightly more artistic statement to a space. HomeThangs.com has introduced a guide to a few ways, both simple and elaborate, to create a space for cats to climb without significantly infringing on a room's decor.
The simplest way to custom build a cat perch is to simply mount small shelves to the wall at uneven intervals to form makeshift steps and platforms. The shelves themselves should be strong and sturdy and ideally covered in either heavy duty carpet or thick sisal rope to give cats something to sink their claws into, but as long as they're large and sturdy enough to support a cat's weight, this simple solution is a great way to keep cats happy without buying a large, ugly piece of furniture.
That said, it's becoming more popular for pet owners to build really elaborate cat perches and even whole play areas mounted close to the ceiling. These narrow catwalks run like thin beams across the top of a room or even between rooms, with simple shelves at each end that allow cats to easily climb up and down. Covered or enclosed versions, which resemble see-through ventilation ducts, can even be run outside in warmer climates to allow indoor cats access to fresh air without the dangers of actually letting them roam around outdoors.
To see some of these custom cat perches in action, or for more information about building one, check out the full guide here.
HomeThangs.com is not only a home improvement superstore, it also provides expert design tips and a comprehensive shopping guide, taking the ideas from professional interior designers, and offering tips to the consumers on how to pick the products to best suit their needs.