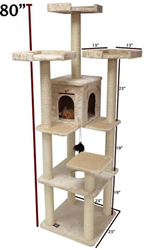 Even fairly basic cat trees will appeal to a kitty's jungle cat instincts, allowing them to climb, perch, and observe their territory more effectively.
(PRWEB) October 02, 2014
HomeThangs.com – the Online Home Improvement Store has made their goal to deliver the right product to the consumer. With that in mind, shopping and home design tips, as well as special product selections are being introduced.
Cat trees are an essential piece of furniture for any cat owner; not only will they keep cats off the people furniture, but they also go a long way towards keeping cats happy and healthy. HomeThangs.com has introduced a guide to a few of the most important features to look for, as well as a quick explanation of the cat-psychology behind them.
Cats are happiest when they're up high, and this is the most basic appeal of tall cat trees: it simply gives cats a comfortable perch and a good vantage point to see the room around them. That means that height and stability are among the most important considerations when choosing a cat tree: not only should it be tall, but it should have a base that's wide and heavy enough to support the weight of a cat jumping or climbing up and down along it.
That said, other features, like a heavy duty scratching post, hanging toys, or small enclosed sleep areas can all be very important too, depending on the age and number of cats that will be using the cat tree, as well as what other cat furniture is present in the home. HomeThangs.com's new guide takes a look at the importance of each of these features for different types of cats.
On the outside, most cat trees have a similar aesthetic, but the material used to make them – both the exterior covering and the inner core – are important to be aware of. Some materials are much sturdier than others and will hold up better to a cat's claws, while some heavily processed and synthetic materials can even be toxic to cats. This guide discusses a few specific features to look (and look out) for to make sure a cat tree is high quality and will last for many years to come.
To read the full guide, click here.
HomeThangs.com is not only a home improvement superstore, it also provides expert design tips and a comprehensive shopping guide, taking the ideas from professional interior designers, and offering tips to the consumers on how to pick the products to best suit their needs.