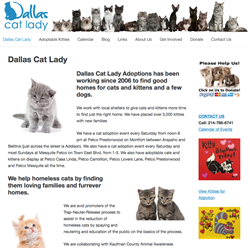 There are a lot of animal rescue organizations out there, but this one is special and they really deserve your help. If you are considering donating to a worthy cause in the name of saving the lives of innocent animals please consider Dallas Cat Lady
Dallas, TX (PRWEB) March 29, 2014
The Christopher Oliver Agency is launching the newly redesigned dallascatlady.org website for Dallas Cat Lady Adoptions. The new website features a responsive design enabling the site to resize and reformat itself depending on the device accessing it. The new website is fully compatible with all mobile devices as well as Mac and PC computers and browsers. In addition the "Adoptable Kitties" tab in the main navigation features a page that streams live data from Petfinder allowing for the most up-to-date listing of cats and kittens up for adoption. Because Dallas Cat Lady Adoptions is a non-proft organization staffed by dedicated volunteers, donation functionality via PayPal donations has been integrated into the site on every page.
"Dallas Cat Lady Adoptions is an incredibly dedicated group of extremely hard working people. When I realized that most people have them confused with larger well-funded organizations I decided there was something I could do to help, so I decided my agency would donate a modern website with advanced functionality to bring them up-to-date and help them help these animals that are desperately in need of loving homes. I was struck by their dedication to the cause of finding homes for these cats and the lengths they will go to, often at their own personal out of pocket expense, make a difference in their lives. There are a lot of animal rescue organizations out there, but this one is special and they really deserve your help. If you are considering donating to a worthy cause in the name of saving the lives of innocent animals, then please consider Dallas Cat Lady Adoptions. Also, if you are looking to adopt a cat or kitten, please call them at 214-766-6741 and take a look at the Adoptable Kitties gallery on the new dallascatlady.org website," says Christopher Oliver of the Christopher Oliver Interactive Agency of Dallas.
Dallas Cat Lady Adoptions has been working since 2006 to find good homes for cats and kittens and a few dogs. They are a non-profit, volunteer staffed group that works with local shelters to give cats and kittens more time to find just the right home. They have placed over 3,000 kitties with new families. They host cat adoptions in Dallas every Saturday from noon-8 pm at Petco Prestonwood on Montfort between Arapaho and Beltline and also have a cat adoption event every Saturday and most Sundays at Mesquite Petco on Town East Blvd. from 1-5PM. They also have adoptable cats and kittens on display at Petco Casa Linda, Petco Carrollton, Petco Lovers Lane, Petco Prestonwood and Petco Mesquite all the time. For more information about adopting a cat or kitten in Dallas contact Dallas Cat Lady Adoptions at 214-766-6741 or visit their new website, donated by Christopher Oliver, at dallascatlady.org.