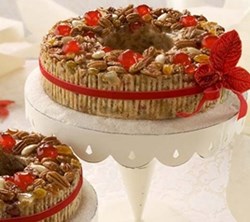 ''Artisan' foods - produced by non-industrialized and small batch methods - are hot sellers this holiday.' - Leslie Linevsky, Catalogs.com co-founder
Fort Lauderdale, Florida (PRWEB) December 05, 2013
While everyday online grocery sales continue to battle consumer resistance, specialty food gifts in the artisan, nostalgia and import categories are selling strong for the 2013 holiday season, Catalogs.com marketing experts report.
"Family and friends always love gifts of food, and something chosen from online specialty stores is more inspired than a gift card from the local grocery store," says Leslie Linevsky, Catalogs.com co-founder. "Niche merchants, especially those that feature all natural and "homemade" gourmet products, are anticipating strong sales this year. There is a marked trend away from the "basics" toward food baskets and products that are really unique."
Andrew Porat, partner at Chelsea Market Baskets, says that holiday shoppers are looking for especially distinctive and different gifts this year. "A segment of the market has always been interested in imported foods," he says, "but they are now looking for a novel experience, and want to give something that has a story behind it. Our Danish licorice, Lakrids, is a great example; it even captured the attention of a Wall Street Journal journalist. Gift givers especially like food products from artisan and small producers."
Rebecca Brown, Vice President at Beatrice Bakery, agrees, "We have seen upward movement in gift food sales over the last two years, with a strong resurgence of comfort foods and those traditional bakery items that remind us of our childhood holidays." Brown notes that nostalgia sells, and that people are looking for both quality and sentimentality. She points out that people are also buying bigger this year, with the 3-pound size old-fashioned fruitcake – a winner in the nostalgia category - outpacing the 2-pound option.
One-off and custom food gifts are also contributing to a strong holiday season at specialty stores. "This year people are indulging in one-of-kind brownies decorated with images from their photographs," notes Eileen Spitalny, Fairytale Brownies co-founder. "The corporate buyer is also spending big this year, and we are planning for large orders of personalized logo items right up to our deadline for holiday delivery."
Natural and health-conscious are adjectives in the food category resonating with consumers, along with artisan and nostalgia. What's good for the body sells, and gifts that can be described as non-processed and health conscious are especially popular observes Linevsky.
Beth Lawrence, CMO at La Cense Beef, sees this trend working in the company's growing sales of all-natural, hormone-free, 100% grass-fed beef. She observes, "Shoppers are continually more interested in sustainable foods and healthy alternatives. The perfect gift is something that is good for you and that pleases the gourmet."
"Food is a gift that people can appreciate instantly, so it's an immediate winner," summarizes Porat.
About Catalogs.com
Since 1996, shoppers have universally recognized Catalogs.com as a trusted shopping portal. The comprehensive Catalogs.com website and newly launched Dynalog dynamic catalogs for desktop and iPad, feature over 740 major and specialty retailers, and provide shopping access via web, iPad and mobile phone platforms.