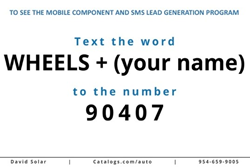 With Dynalog, auto dealers can create and update inventory in their digital catalog daily. - David Solar, Catalogs.com
Fort Lauderdale, Florida (PRWEB) October 26, 2016
Catalogs.com Sales Executive David Solar demonstrated the innovative Dynalog digital catalog technology for automotive industry executives at the 2016 ATAE Field Services Directors meeting. During his 45-minute presentation, Solar explained how car dealers can utilize the Dynalog platform to create dynamic and visually stunning digital catalogs to assist their dealerships in reaching the mobile-attuned car shopper. The Field Services Directors meeting was held October 16 to 18 at the Williamsburg Lodge, in Williamsburg, Virginia.
Dynalog enables companies – both traditional retail merchants and niche marketers - to create fully interactive and mobile-friendly catalogs, which customers can browse on vendor websites, and through emails and in-store kiosks. Vendors can display current inventory, share relevant company information, and share news of upcoming sales and promotions with ease. During his presentation, Solar emphasized that Dynalog now makes it possible for automobile dealerships to save time and printing expenses while allowing them to create visually appealing digital catalogs with minimal design experience.
"The Dynalog is an exciting platform for auto dealerships," says Solar. "It is a vast improvement over a traditional catalog because it is completely device-responsive and industry-adaptive, so it is particularly attractive for niche-specific users, like the automotive trade."
Automobile dealerships have long relied on catalogs to market upcoming sales events and promotions, notes Solar. Leveraging Dynalog technology, they can now create and update digital automobile catalogs with ease, even when making daily updates to inventory.
To find out more about Dynalog, members of the media and interested vendors are encouraged to visit http://www.catalogs.com/auto/. More information about the service, including sample brochures and catalogs, is available on the website.
About Catalogs.com
Catalogs.com has connected shoppers with the brands they love and the products they need since 1996. With the company's newest innovation, the Dynalog, Catalogs.com provides easy, accessible and interactive shopping experiences for over 700 major and specialty retailers via mail, online and mobile platforms.