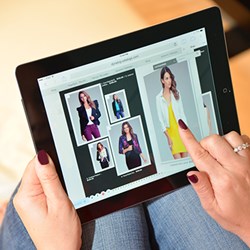 "Dynalog introduces customers to 'discovery shopping,' a highly interactive experience that entertains and engages." - Richard Linevsky, President, Catalogs.com
Fort Lauderdale, FL (PRWEB) February 05, 2014
Meet Dynalog ™
The patent-pending Dynalog, coined from "dynamic catalog," is the newest generation of digital catalog technology that is forever changing the way catalogs are created and used. Catalogs.com's innovative technology is the most interactive, user-friendly and visually stimulating digital shopping format to be brought to market. Unlike the virtual catalogs of the last ten years which shrink down paper catalogs onto your computer screen, Dynalog produces web and mobile optimized digital catalogs with an eye-popping, beautiful display for browsing and shopping.
Over 160 online retailers have completed their beta testing of Dynalog and are now showcasing it to their customers. "Our retail clients have told us they do not want another online PDF catalog. Instead, they want to present their customers with a highly interactive shopping experience that both entertains and engages, and one that introduces shoppers to products they would otherwise never have found; that's discovery shopping. We've learned that with each flip of a Dynalog page, customers discover more, return more often, and most of all, buy more," states Catalogs.com President and co-founder Richard Linevsky.
Dynalog eliminates the time and prohibitively high expense of printed catalog production. The expense of printing a catalog two, four or six times a year is now gone. Catalogs.com's technology allows any e-commerce store to develop a Dynalog for any product line they choose, or quickly customize it for a special sale, holiday, or promotion. Retailers can create multiple versions of their Dynalog, delete those that are outdated, and replace them with newer versions within thirty minutes.
"Clients are finding it extremely easy and effective to email their Dynalog to existing customers, add it to newsletters, and share it on social media platforms like Facebook, Pinterest and Twitter. The best part about Dynalog is that it delivers a far superior online shopping experience at a fraction of the cost of developing a PDF catalog," says Richard Linevsky.
Retailers that currently use Dynalog Include: The Knot, National Geographic, bebe, Sharper Image, TJFormal, Jos. A. Bank, Dell Computers, American Diabetes, Relax The Back, Bowflex, Plow & Hearth, and Leonisa, just to name a few.
What Clients Are Saying About Dynalog:
"Plow & Hearth is already seeing a five (5) percent better conversion to sales with the Dynalog, and we are already finding that the engagement time is better with Dynalog than with our more conventional e-catalog. Dynalog gives us the ability to create a more casual, comfortable setting for the customer. We can easily make changes and edits on the fly, which we haven't been able to find in any other digital catalog." - Joshua Jones, Affiliate Marketing Manager for Plow & Hearth
"We love the functionality of Dynalog because it provides engagement. There are lots of tools out there, but Dynalog does it right so that shoppers can have fun with it. It's sticky; it allows them to interact with our brand and it leads them to our site, which results in conversion." - Sam Grossman, Director of Marketing for Sharper Image
"The ease of use and the interface is really great, very similar to a browsing interface, it's a very simple, easy flowing product page that links directly to our website." - Glen Mercereau, Director of Internet Marketing/Head of e-Commerce for Adam & Eve
About Catalogs.com:
Since 1996, shoppers have universally recognized Catalogs.com as a trusted shopping portal. The comprehensive Catalogs.com website and newly launched Dynalog dynamic catalogs feature over 740 major and specialty retailers, and provide shopping access via web, tablet and mobile phone platforms.