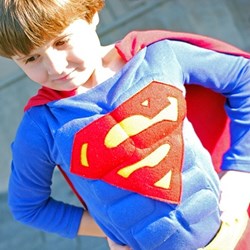 Halloween-related sales are treating retailers early this year. - Leslie Linevsky
Fort Lauderdale, Florida (PRWEB) October 08, 2013
Stores and catalogs at Catalogs.com are seeing an early surge in Halloween spending, with strong sales in the perennial favorites for treats, costumes and decor, reports Catalogs.com co-founder Leslie Linevsky. A National Retail Federation consumer survey predicted an early shopping season, with a slight decrease in 2013 Halloween spending compared to 2012. Early seasonal sales indicates consumers taking advantage of savings and discounts while making certain a wide variety of merchandise is available.
Halloween 2013 falls on a Thursday, which promises a long weekend of spooky festivities. Retail sales indicate that enthusiasts are starting early with larger-than-usual plans for parties, dressing up and trick-or-treating. "Classic superheroes and Disney characters are going to reign supreme this year," predicts Steven Silverstein, President and CEO, Spirit Halloween. "Zombies are already the top choice for lawn décor, and consumers are buying them with a twist: Zombie-fied flamingos, cats, gnomes and deer are a big hit for creating the scariest house on the block."
"We saw the first spike in the sales of Halloween costumes, treats and décor at Catalogs.com two weeks earlier than in past years," says Linevsky. "Halloween comes in right behind Christmas for home and lawn décor sales, and this year retailers are reporting a strong preference for traditional tricks and treats. Every year there is a Halloween trend inspired by pop culture – like this year's Duck Dynasty or Honey Boo Boo costumes - but witches, ghosts and comic book heroes are always part of this holiday, and they are enjoying renewed popularity."
Todd Morris, owner of Candy Crate, Inc., confirms that trick-or-treaters can expect old favorites in this year's haul of Halloween candy. "Candy corn remains very popular and sales are strong for both treat-sized packets or bulk to fill candy dishes at the home or office. Classics such as Wax Fangs, lollipops and fun-sized chocolates always top the list of seasonal candy sales."
Creative marketing of products, like wigs, pajamas and sexy shoes, is boosting early Halloween revenue for all retailers, not just holiday-specific stores, says Linevsky. Craft supplies, fabric and Halloween-themed home goods like decorative pillows, table runners and dinnerware are also enjoying brisk early-Autumn sales.
"Many shoppers are looking for creative Halloween costumes and are excited to find something that can be used again, like character pajamas," says Terri Hunsinger, WebUndies.com owner, confirming the trend toward classic costumes for this year's shoppers. "Superheros - like Batman and Superman - are really big this year, along with Teenage Mutant Ninja Turtles. Superhero pajamas are fun, different and a great way to get multiple uses out of a Halloween costume."
About Catalogs.com
Since 1996, shoppers have universally recognized Catalogs.com as a trusted shopping and catalogs portal, attracting more than one million unique visitors each month. The comprehensive Catalogs.com website, at http://www.catalogs.com, newly launched Catalogs.com for iPad, and Catalogs.com online catalogs feature over 740 major and specialty retailers, and provide shopping access via web, iPad and mobile phone platforms.