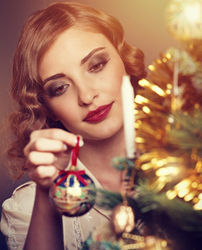 We are observing a trend toward nostalgia in holiday decor - Leslie Linevsky, Catalogs.com
Fort Lauderdale, Florida (PRWEB) December 01, 2016
Holiday decorating trends observed by the online shopping experts at Catalogs.com show nostalgia and nature are this year's popular themes in holiday decorating and Christmas decor.
In response to these trends, Leslie Linevsky, co-owner of Catalogs.com, states, "Retailers are increasing the selection of reproductions and new versions of 'Old World' style decorations, ornaments and tableware." High-quality nostalgic decorations are always in style and can be handed down for generations. Nostalgic decor provides a link to the past that reminds people of years gone by.
"We've made sure to provide wonderful options for holiday shopping among our home decor catalogs and stores with rustic and country styles, as well as recycled, up-cycled, and 'green' holiday merchandise," says Linevsky. "Customers want to connect with history, fond memories and the environment around them." Linevsky adds that the 'back-to-nature' approach to this year's holiday home decor trend offers online shoppers a budget-friendly approach with style. Splurge-worthy place settings and home decor can be enhanced with evergreen boughs, acorns and pinecones found in the backyard or surrounding neighborhood.
According to Michelle Muffleman, eCommerce director at Käthe Wohlfahrt of America, "Many people are commenting about holiday décor that reminds them of their childhoods – going classic is big this year." Among the vast selection at Käthe Wohlfahrt, patchwork items and traditional Nutcracker kings are grabbing the attention of buyers eager to purchase this year's holiday decorating trends.
At Touch of Class, an online store dedicated to complete home decorating, customers are showing interest in the classics. "When people pull out their decorations from last year, they often find that they need new items or that the style needs a change," says Becky MacDonald at Touch of Class. "This is when they turn to us and our 'Shop Your Favorite Style' option. It seems the customers are looking to recreate favorite memories from grandma's house and other childhood moments."
Sustainable living and enhancing the way people connect with their planet is an important message at e-retailer Bambeco. This includes salvaged glass ornaments, recycled cardboard wreaths, natural coir doormats, and handwoven seagrass baskets. All of this holiday merchandise speaks to the themes of nostalgia and nature. They are careful to show how their products might impact local communities and how the products support plants and wildlife. Bambeco gives people options they might not find at local malls or markets.
"Following the heavy gift-buying of Black Friday and Cyber Monday, our shopping trend-watchers see that there is an uptick in sales of seasonal home decor and holiday entertaining accessories," says Linevsky. "Every year, there is a shift in what is popular, and this year we have observed that the trend seems to be toward an old-fashioned, nostalgic, and nature-themed holiday home."
ABOUT CATALOGS.COM
Since 1996, shoppers have universally recognized Catalogs.com as a trusted shopping portal. The comprehensive Catalogs.com website and newly launched Dynalog dynamic catalogs for desktop and iPad, feature over 740 major and specialty retailers, and provide shopping access via web, iPad and mobile phone platforms.