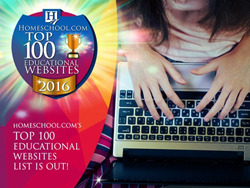 Catalogs.com is a great resource for inclusion in Homeschool.com's Top 100 websites - Leslie Linevsky, co-owner
Fort Lauderdale, Florida (PRWEB) January 12, 2016
Homeschool.com, the leading Homeschooling Community online, released its list of the Top 100 Educational Websites of 2016 this week, which features Catalogs.com in the coveted first position for "Great Places to Purchase Homeschooling Products."
Homeschooling parents, teachers and students find a wealth of educational resources in the Education & Supplies category at Catalogs.com, where national education stores like Nasco, EduShape, Therapro, American 3B Scientific and GraduationSource offer a wide variety of top rated products, coupon code savings and free shipping. Catalogs.com also features religion-based homeschooling resources and occupational, speech and physical therapy supplies and furniture for families.
"It's great to make the Homeschool top websites list because we have worked to make Catalogs.com a valuable resource for parents and teachers," says Leslie Linevsky, Catalogs.com co-owner. "We have aggregated specialty stores that offer educational supplies, books, learning aids and teaching tools into one place that is easy-to-shop on both desktop and mobile. Homeschoolers can find everything on Catalogs.com, from classroom furniture, therapeutic equipment and Montessori learning toys, to music education materials and affordable, quality instruments."
The Homeschool.com team surveys and selects educational websites that are of the most value to homeschoolers, compiling a list of the top 100 online resources every year. The list, Top 100 Educational Websites of 2016, was published the first week in January, featuring education-related websites sorted by category. The list has become a directory that is visited by a community of more than 2.5 million homeschoolers every year.
"The education resources at Catalogs.com are great for everyone with kids in school, not just homeschoolers," adds Linevsky. "Shoppers find homework aids, supplies for extracurricular activities like music lessons, art and science fairs, and practical children's room desks and art tables at the hundreds of stores here."
About Catalogs.com
Since 1996, Catalogs.com has connected shoppers and the products they love. With the company's new Dynalog dynamic catalogs, they provide simple, accessible shopping from more than 700 major and specialty retailers through mail, online and mobile platforms.