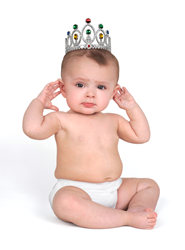 Indulgent older parents are helping grow the luxury baby goods market.
Fort Lauderdale, Florida (PRWEB) March 03, 2015
The luxury baby market is poised to continue its steady growth in 2015, up from what IBISWorld projected at $10.6 billion in 2014. Expectant parents are devouring news of England's 18-month-old prince and Kate Middleton's looming due date while applying royal purchasing power that is contributing to a surge in sales of baby clothing, accessories and safety products, according to the go-to authority on shopping Catalogs.com.
It's not just about the royal family, either. Keeping up with the Kardashians' newest additions, Scarlett Johansson's bubbly baby girl and a spate of celebrity tots is important to new moms and dads—and the numbers don't lie. Catalogs.com reports that shopping statistics suggest that the luxury baby market is growing more quickly than ever before.
"New parents must buy four items for their baby: a crib, stroller, car seat and diapers. But those purchases aren't treated like necessities anymore. The trend is to choose baby gear that is anything but ordinary," says Leslie Linevsky, co-founder of Catalogs.com. "The luxury baby market is enjoying a boom of its own."
Catalogs.com works with a number of high-end specialty baby retailers that carry a broad selection of furniture and accessories. Items across all price categories sell, says Linevsky, such as gold and silver gilded AFK Cherubini cribs, which retail just under $4,700 at Layla Grayce.
"We see new parents buying a total baby lifestyle with coordinated nurseries, accessories and clothing," says Yates Hooper, president and CEO of Elegant Baby. "Designer collections are hot for both gifts and baby accessories… parents are looking for more detail, higher quality and luxe crafting in everything they buy for baby, from custom-painted nursery furniture to hand-knit stuffed toys. The concept of elegant sells in the baby products market."
BabyBox.com owner Katherine Type accurately pegged England's Prince George as a baby style icon. Monogrammed infant sweaters surged in popularity after Prince George sported the preppy look in a photo shoot, and nautical-themed rompers were considered haute couture after the royal family's trip down under. The royals' newest addition—a princess that Vanity Fair says the couple will name Elizabeth Diana Windsor after her April debut—will likely upstage him with pastels and adorably sweet designs.
Part of the growth in the luxury baby sector might be attributable to the shift in biological clocks' settings.
"Baby stores and catalogs online are performing better than in previous years. Older parents who are financially stable when they start their families can afford to spend more on luxury and designer baby lines," says Linevsky. "They decorate the nursery with more expensive furniture, select designer clothing and tote baby gear that complements their more mature and sophisticated personal style."
About Catalogs.com
Since 1996, shoppers have universally recognized Catalogs.com as a trusted shopping portal. The comprehensive Catalogs.com website and newly launched Dynalog dynamic catalogs for desktop and iPad, feature over 740 major and specialty retailers, and provide shopping access via web, iPad and mobile phone platforms.