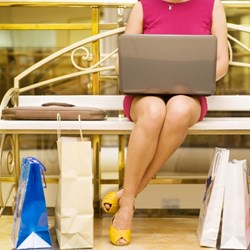 Online stores successfully feature luxury and unique items to motivate shoppers - Leslie Linevsky, Catalogs.com co-owner
Fort Lauderdale, Florida (PRWEB) November 22, 2013
Retailers specializing in luxury gifts and unique collectibles will not be bashful about promoting their high ticket merchandise this holiday season. Many stores at Catalogs.com are promoting exclusive, rare, and one-of-a-kind items to the high-income bracket shopper by using "featured gift" categories on their websites and online catalogs.
"Retailers are aggressively marketing luxury goods with "limited editions" and specially featured high-end merchandise," says Leslie Linevsky, co-owner of Catalogs.com. "Brick and mortar stores might provide a personal relationship that appeals specifically to high-end shoppers, but web-based stores offer the most valuable service: convenience. This isn't lost on the high-income shopper, who sees as much value in shopping online as the average consumer."
"There is always a market for exclusive and hard-to-find items, especially during gift-giving season," says George Gonzalez, owner of Angelic Dreamz. The store, which sells famous brand dolls, action figures and decorative items, plans to announce a premier selection of rare collectibles after the Thanksgiving holiday.
"Limited edition merchandise attracts shoppers trying to find the perfect gift for a collector. Many retailers hold back their ultra limited edition items – the rare merchandise that will sell out in minutes - specifically for the holidays, because these items do their job: they create excitement and make people want to buy. Luxury marketing is about our need and desire to want to acquire all kinds of things," explains Gonzalez.
Google and Unity Marketing reported in 2008 that upper bracket online shoppers have higher earnings, greater net worth and spend more than high-earning in-store shoppers. In five years, this trend has held strong, says Linevsky, citing Catalogs.com demographics showing a growing segment of high and ultra-high income shoppers. Luxury merchandise is tailor-made for online marketing, Linevsky notes, because mobile shopping sites and digital micro-catalogs for preferred shoppers can easily offer merchandise straight-from-the runway, custom fabricator or designer showroom.
Custom designs – with higher price tags – find a year-round market among business buyers, high net worth individuals and for special occasions, like charity auctions, says Andrew Hazen, CEO at All Bobbleheads. "There were enough inquiries for specialty gifts from our shoppers to merit introducing a 'luxury' line of custom, head-to-toe bobblehead dolls, and we are expecting these unique items to perform especially well for the holidays."
Many stores use luxury items to attract shoppers with a wide range of budgets. Linevsky points to Sharper Image, which offers unusual gift ideas at all prices, and showcases arcade games and zero-gravity recliners in their online store's luxury category, promising "something unique and special" every visit. The majority of gift suggestions at Sharper Image are in the more affordable $50 – 100 price range, she says. Offering a range of price points works well for most gifts and collectibles retailers.
"There's another aspect to luxury shopping online," adds Linevsky. "People who would be intimidated to browse ultra-expensive items in a bricks-and-mortar store don't have any qualms about admiring them online, so retailers feature these amazing products to draw people in. 'Show stoppers' are an effective way to attract shoppers and then introduce them to affordable, mid-price range inventory. Gift givers can feel like they purchased luxury brand cachet without a one-of-a-kind price tag."
About Catalogs.com
Since 1996, shoppers have universally recognized Catalogs.com as a trusted shopping portal. The comprehensive Catalogs.com website and newly launched Dynalog dynamic catalogs for desktop and iPad feature over 740 major and specialty retailers. Catalogs.com provides shopping access via web, iPad and mobile phone platforms.