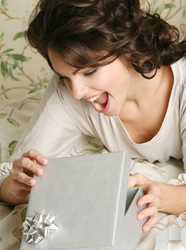 Our shopping experts put special effort and creativity into choosing exceptional gifts for mom. - Leslie Linevsky, Catalogs.com co-owner
Fort Lauderdale, FL (PRWEB) May 07, 2014
When asked about the best Mother's Day she remembers, moms relay favorite memories of lopsided clay vases, hand-colored cards and scrambled eggs cooked with a helping of flavored coffee creamer by well-meaning junior chefs. While it is true that almost any home-made gesture served up by the children's loving hands really does make mom's day, there are some gifts that only money can buy.
"I mean it when I tell my kids I just want them to be extra thoughtful on Mother's Day – that's all I need to feel wonderful," says Catalogs.com co-founder Leslie Linevsky. "But every mom has a friend whose kids – with a little help from dad – surprise her with a highly enviable Mother's Day gift: a three-day luxury spa retreat or champagne brunch at a four-star restaurant. And then there are those gifts that are unbelievably thoughtful because they obviously took a tremendous amount of creativity and special effort."
Shopping experts at Catalogs.com concede that choosing a unique gift for mom takes high-powered creative thinking. "Start with what your mother loves to do or has always dreamed about, and think of ways to tailor your gift perfectly to her," suggests Linevsky.
On the Catalogs.com personal shoppers' list of top ten awe-inspiring Mother's Day gifts:
1. Artwork – Not just any piece to hang on the wall, but a museum quality reproduction of work by her favorite artist, like Edgar Degas' bronze dancer or Claude Monet's water lilies.
2. Luxury Bedding – Make her bed, but do it with luxurious high-thread count linens in her favorite color, and top it off with down pillows, a European duvet and a stack of books by her favorite authors.
3. Credit – Let mom do her own shopping by paying off her favorite store credit card so she starts Mother's Day with a zero balance.
4. Photo Memories – Better than a photo in a desktop frame, a giant-sized canvas print of her favorite photograph of her children as babies, or a black-and-white of her with her own mother may take some sleuthing for the right photo, but your efforts will be worth it.
5. Flowers – The bouquets can start on Mother's Day when you place a standing flower delivery order for gorgeous arrangements to arrive every month for the rest of the year. Mothers don't stop being "mom" after May 11th.
6. Classes – Pay for classes and give mom the opportunity to do something that she has always dreamed about, like taking up photography or learning interior design, especially if you also promise her uninterrupted time for her new hobby.
7. Gourmet Gifts – Get mom something she craves, remembering that the key is she doesn't cook. Better yet, order something unusual for delivery, like custom gourmet ice cream favors that are anything but a scoop of vanilla.
8. Peace and Quiet – If she says "I just want some peace and quiet," give her an overloaded gift basket with everything she needs for some quality alone time: sleep mask, sound machine, aromatherapy products and more treats to guarantee sweet dreams.
9. Designer Redux – Splurge on designer shoes or accessories and choose something that mom would never – ever – buy for herself because it's not something she needs.
10. Travel – Present mom with a selection of travel videos and tourism magazines. Tell her she has the task of watching the videos and then selecting her own dream vacation. Book it (with or without the kids).
"Of course, the most important thing about Mother's Day is not to forget it!" says Linevsky. "Whether what you do for your mom is simple and handmade, or an extra special Mother's Day gift you purchase just for her, it really is the thought that counts."
About Catalogs.com
Since 1996, shoppers have universally recognized Catalogs.com as a trusted shopping portal. The comprehensive Catalogs.com website and newly launched Dynalog dynamic catalogs for desktop and iPad, feature over 740 major and specialty retailers, and provide shopping access via web, iPad and mobile phone platforms.