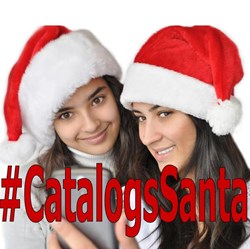 Santa is delivering a special gift from Catalogs.com for the most creative video message entered in the Tell It To Santa event. - Leslie Linevsky, co-founder Catalogs.com
Fort Lauderdale, Florida (PRWEB) December 11, 2013
Vine, Instagram and YouTube users are invited to create and upload a short video message to Santa, letting him know what they would like from any store at online shopping portal Catalogs.com. All original videos uploaded with the hashtag #CatalogsSanta to Vine, Instagram or YouTube will be entered for a chance to win the gift of the entrant's choice valued up to $250.
The "Tell It To Santa" contest runs through midnight, Sunday, December 22, 2013. The winner will be announced on Christmas Eve, December 24, 2013. Videos must include the hashtag #CatalogsSanta to be eligible, and will be judged based upon creativity by a panel at Catalogs.com.
"Grab your smartphone and let Santa know what you want," encourages Leslie Linevsky, Catalogs.com co-founder. "Vine and Instagram videos are quick and fun to record, and almost every phone can record a quick video to upload on YouTube. Everyone can find something that would really make their Christmas morning wonderful at Catalogs.com - from car parts, cosmetics, kids stuff and clothing - and they don't have to stop there. Santa is looking for video messages to make the holidays bright - and your video could inspire someone else to shop for what you really want, too!"
To enter, participants must follow the contest requirements:
1. Create and post an original 15-second or less video on Instagram video, YouTube or Vine that tells Santa what he/she wants for Christmas
2. Share their video on Instagram, YouTube or Twitter (Vine's parent company) using the hashtag #CatalogsSanta
Participants may enter the contest with as many videos as they want. One prize of $250 will be awarded. The contest is open to residents of the U.S. who are 18 and over.
About Catalogs.com
Since 1996, shoppers have universally recognized Catalogs.com as a trusted shopping portal. The comprehensive Catalogs.com website and newly launched Dynalog dynamic catalogs for desktop and iPad, feature over 740 major and specialty retailers, and provide shopping access via web, iPad and mobile phone platforms.