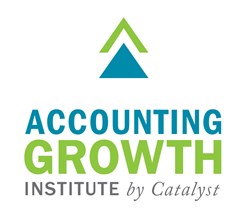 The Accounting Growth Institute is a revolutionary marketing engine developed specifically for local accounting firms.
Indianapolis, IN (PRWEB) December 11, 2013
The Accounting Growth Institute is a strategic growth program that empowers local firms with marketing strategies, tools and resources previously available only to high growth regional accounting firms at extraordinary costs. Member firms will follow a proven program to produce sustained organic growth. Membership in the program will provide local, technology and growth-oriented messaging, direction and management tools that are needed to grow a dynamic 21st century CPA firm. The Accounting Growth Institute is designed to unlock the growth potential of firms that operate locally, have one to three partners, and specialize in serving closely held businesses and their owners.
Member firms in the Accounting Growth Institute will work with Catalyst to co-develop a strategic growth plan, which will incorporate state of the art marketing tools. Specifically, a website will be designed to create inbound opportunities and increase client communication. A selection of features will be available that include newsletters, blogs, sales tools, social media kits, video resources, sales collateral, and more. In addition to receiving marketing strategy, member firms will also be provided with ongoing business development training, which is designed to create a culture of growth within firms.
The Accounting Growth Institute was developed by Catalyst's team of experienced CPA marketers based on years of experience working with leading local and regional accounting firms. It is designed to allow local firms to implement proven growth strategies that coordinate marketing and business development. The program focuses on brand awareness, client communications, client acquisition and service delivery.
Catalyst CPA Marketing, established in 2010, is a full-service marketing and public relations firm dedicated to helping leading local and regional CPA firms achieve sustained growth. Catalyst combines excellence in marketing strategy, creativity and implementation with a deep background in the accounting industry - providing a unique solution to accounting firms, firm management, and professional marketers.