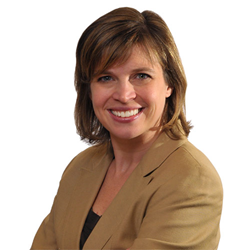 Rochester, NY (PRWEB) May 01, 2014
Jill Hewitt, a customer experience specialist at Catalyst (Rochester, New York), has been selected to present a session on customer experience mapping at the CRM Evolution 2014 Conference, August 18-20 in New York City. Hewitt's session, titled "How to Create a Customer Experience Map," will take place from 10 to 10:45 a.m. Wednesday, August 20.
Hewitt, an experienced conference presenter, specializes in designing and evaluating customer interfaces for the Web, touchscreen kiosks, mobile devices, software applications, and hardware devices. She has improved customer experiences for major Fortune 1000 brands, including Paychex, UPS, and NCR. Hewitt also is a former assistant professor at Rochester Institute of Technology.
Now in its sixth year, the CRM Evolution Conference is produced by the editors of CRM Magazine. At the conference, several hundred senior CRM executives will come together to learn how to create better customer engagements, improve customer satisfaction, and leverage new technology that will reshape their customer relationships. The CRM Evolution Conference, which is collocated with Customer Service Experience and SpeechTek, also features a Customer Solutions Expo.
According to conference chair Paul Greenberg, the definition of customer engagement is "the ongoing interactions between the company and customer, offered by the company, chosen by the customer." Greenberg says this is the heart of CRM and the outcome that anyone developing a CRM strategy should be looking for.
For more information on the CRM Evolution Conference, visit http://www.crmevolution.com.
About Catalyst
Catalyst (http://www.catalystinc.com) is a direct and digital marketing agency that helps clients acquire, retain and develop long-term relationships with their customers. We combine intellectual curiosity and inquisitiveness with hard-core analytics, deep customer insight and a measurement mindset to take the guesswork out of marketing decisions. We call it Science + Soul. Headquartered in Rochester, NY, our clients include AAA, AMC Theatres, Bell & Howell, Eastman Kodak Company, First Niagara Financial Group, Heraeus Kulzer, TTI Floor Care North America, Valvoline, and Xeikon, among others.
Twitter:
http://twitter.com/scienceplussoul/