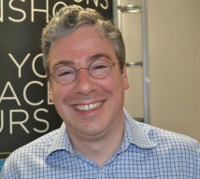 For the US to continue to be a leading exporter of innovation, we need the ability to figure out who the most exceptional engineers are, and accelerate their trajectory into and through engineering career paths.
Baltimore (PRWEB) April 21, 2015
Catalyst IT Services CEO Michael Rosenbaum recently participated in a White House roundtable discussion with Vice President Joe Biden and Labor Secretary Thomas Perez. The roundtable was to discuss how the private sector could help achieve the goals of the newly unveiled TechHire initiative.
According to the White House, TechHire will create, "Pathways to better, high-paying tech jobs and [meet] urgent employer demand across the U.S." It is, "A bold multi-sector initiative and call to action to empower Americans with the skills they need… for a well-paying job."
Rosenbaum agrees that there are multiple approaches to filling this demand. He emphasizes that education and restructuring how the economy evaluates and measures talent are critical pieces of the puzzle.
"The Administration is right to identify the issue," said Rosenbaum. "There is a rapidly growing demand for technologists. A need for technology expertise and leadership in innovation is driving this demand. Identifying technologists, particularly those who bring an understanding of what enterprises can do with that technology, is the foundational challenge our economy faces in the coming years."
It is crucial to solve the challenge of identifying these technologists given the vast chasm between the contributions of a good engineer and a great one.
"The truly exceptional engineers who will consistently and reliably deliver great results are sometimes overlooked by the market because of their credentialing," said Rosenbaum. "Opportunities to find these technologists are critical for the development of our economy. For the US to continue to be a leading exporter of innovation, we need the ability to figure out who the most exceptional engineers are, and accelerate their trajectory into and through engineering career paths. Catalyst's ability to identify those most exceptional developers, regardless of their apparent credentialing, and assemble them into exceptional teams, is key to the ability of our enterprise clients to transform, get to market and lead."
Catalyst uses a "moneyball" approach that leverages big data to identify individuals with the greatest likelihood of delivering excellent development outcomes. Catalyst gathers publicly available data and metadata from hundreds of thousands developers, and outcome data from thousands of application development projects. This data is used to develop algorithms that identify the most exceptional engineers, regardless of background, and to assemble them into the most exceptional teams. Catalyst has 14 years of longitudinal data together with data on over 10,000 additional developers each year.
Catalyst has found no statistically significant correlation between a college degree and success as a software engineer. At the same time, Catalyst has found that only 1.5 percent of the engineers it evaluates are truly exceptional engineers. So while, as the administration has stated, an engineer can indeed come from anywhere, not anyone can be an exceptional engineer.
In the last 12 months, several of Catalyst's Fortune 500 clients have released data demonstrating that this model increases productivity by 77 percent, reduces defect rates by 45 percent and reduces ramp up time by 70 percent compared to other hiring models. Clients releasing this data have evaluated it across teams of 30-50 engineers for each model, and the data is statistically significant.
To learn more about Catalyst and its moneyball approach to identifying developers and distinguishing between "good" and "great," visit http://www.catalystitservices.com/process/overview.
About Catalyst IT Services
Catalyst IT Services provides onshore agile application services working with clients onsite or from development centers in the United States. Catalyst is an innovator in applying big data to team assembly in order to transform productivity and quality, delivering better results at comparable or lower prices than major global services providers. For further information regarding the Catalyst IT Services, please visit http://www.catalystitservices.com.