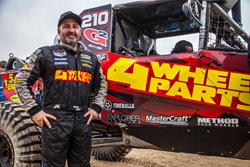 "We are honored to share in the excitement as a part of the ULTRA4 Nitto Tire National Championship, both as competitors and as a sponsor," says Greg Adler.
Compton, CA (PRWEB) October 16, 2014
4 Wheel Parts is proud to present the 2014 Nitto Tire National Championship ULTRA4 race in Reno, NV Oct. 17-18. Over 100 racers from 17 states and 4 countries will converge on Reno for ULTRA4's first ever visit to Wild West Motorsports Park to compete on a two-mile natural terrain course built into and around the adjacent stone quarry.
With both the ULTRA4 Eastern and Western champions having been crowned, competitors will now clash this weekend for the Ultra4 National Title. Beginning with the existing high-speed off-road track carved into the mountainside, event organizers built a completely new course that is certain to test both man and machine in a spectator-friendly setting.
Among the competitors are Team 4 Wheel Parts Greg Adler, Brent Goegebuer and Kevin Adler.
For Greg Adler, who recently competed in the Lucas Oil Off Road Racing Series at Wild West Motorsports Park, the event marks a return to familiar surroundings with whole new set of challenges.
"It will be interesting to see what they have done with the course," says the 4 Wheel Parts CEO. "We always run fast on the short course track but the hill climbs and rocks are going to put this team to the test."
For Goegebuer, Reno's ULTRA4 National Championship represents an opportunity to overcome what has been a disappointing season for the #4473 competing in a sport that, for many, merely making it to the finish line is an achievement.
"We've certainly had our challenges this year," says Goegebuer, "but we know we're fast and we have a lot of experience on this team. Now it's up to us to put it all together for this race and build some momentum to take into next season."
Kevin Adler comes to Reno Fresh on the hells of his #4602 stock Jeep class victory in the Ultra 4 American Rocksport Challenge at Miller Motorports Park in Tooele, Utah. "This is a tough class and we are expecting the course to be extremely hard on the equipment but we know that if we keep it together, we'll have a great shot to contend for another win up in Reno," he says.
After the dust has settled, the first ever ULTRA4 awards banquet will be held in the Ballroom of Reno's Atlantis Casino Resort at 8 p.m. The banquet and awards ceremony will honor all of the ULTRA4 winners from the East and the West coast series as well as the Nitto Tire National Champion.
"We are honored to share in the excitement as a part of the ULTRA4 Nitto Tire National Championship, both as competitors and as a sponsor," says Greg Adler.
About 4 Wheel Parts: 4 Wheel Parts is a retailer specializing in aftermarket parts for off-road and 4x4 enthusiasts. With over 70 locations in North America, 4 Wheel Parts installs all the products it sells while also operating a robust mail-order and e-commerce distribution network to serve customers around the country and around the world. 4 Wheel Parts carries North America's largest inventory of truck and Jeep parts including running boards, suspension systems, catalytic converters and more. Their toll-free order number is 877-474-4821.