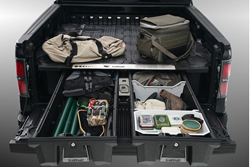 "They [4WP] have been with us since the beginning; we even showed them the prototype a year ago!" says Decked Founder Lance Meller.
Compton, California (PRWEB) April 05, 2014
4WP is adding DECKED's line of truck bed organizers to their selection of Jeep and truck accessories. DECKED's product is designed to fit almost any short or standard truck bed, transforming the back of a pickup into an optimized storage unit.
"We're excited about being partners with 4WP," says DECKED Founder Lance Meller, "They've been with us since the beginning; we even showed them the prototype a year ago!"
Each DECKED unit is constructed out of 100% recycled high density polyethylene co-molded into a steel sub frame and has a deck load rating of 2,000 lbs. The unit is cut precisely for your truck, ensuring there will be no gaps, spaces or forced fits and it installs without any drilling, attaching directly to the existing tie-downs.
The full bed-length drawers can hold up to 200 lbs of just about anything, from fishing rods to tow straps, and their weatherproofing will keep it all safe from the elements. Each drawer rolls on sealed bearing wheels and sports oversized cast aluminum handles for easy, one-handed opening even at maximum capacity.
Accessorize the drawers with drain plugs and they make perfect, easy clean coolers for camping or tailgating; the stainless steel edge guard even has a built-in bottle opener. As well as providing additional storage, the ammo cans flip up to reveal cup holders or a convenient place to keep nuts, bolts and screws while installing exterior accessories.
The entire DECKED system is a 100% USA-made product, comes with a three year limited warranty and has accessory options, like tracks, locks, dividers and trays, to organize any lifestyle. The system raises the deck of a truck bed 12 inches, and if the additional depth is ever needed, can easily be removed in about 30 minutes and then reinstalled later.
About 4 Wheel Parts: 4 Wheel Parts is a retailer specializing in aftermarket parts for off-road and 4x4 enthusiasts. With 64 locations in North America, 4 Wheel Parts installs all the products it sells while also operating a robust mail-order and e-commerce distribution network to serve customers around the country and around the world. 4 Wheel Parts carries North America's largest inventory of truck and Jeep parts including catalytic converters, suspension systems, mud flaps and more. Their toll-free order number is 877-474-4821.