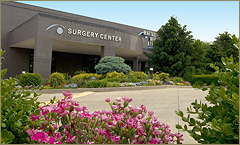 ...we can restore the focus cataracts stole, while also conveniently addressing other prevalent vision problems
SPRINGFIELD, Mo (PRWEB) September 27, 2016
This September, Mattax Neu Prater Eye Center becomes the first in the area to introduce cataract patients to the recently FDA-approved Symfony® Intraocular Lenses. These intraocular replacement lenses (IOLs) provide high quality vision and help people with presbyopia focus on near objects with less dependence on glasses after cataract surgery. In addition, another version of the lens is designed to enhance vision for people with astigmatism.
"Cataracts involve the clouding of the eye's natural lens and can greatly reduce your visual independence," says Mattax Neu Prater cataract surgeon Dr. Thomas Prater. "It is also not uncommon for cataract patients to have additional vision problems, such as presbyopia, in which the eye loses its ability to focus up close, or astigmatism, in which a misshaped cornea causes blurry vision. With the multi-tasking Symfony lenses, we can restore the focus cataracts stole, while also conveniently addressing other prevalent vision problems, all in one procedure."
According to Dr. Prater's colleague and fellow cataract surgeon Dr. Jacob Thomas, the lenses provide a full range of vision at near, intermediate, and far-away distances.
"Our patients are often active and looking for a way to enjoy the activities they loved before cataracts," says Dr. James Mattax, another specialist on the Mattax Neu Prater cataract surgery team. "We're looking forward to reuniting patients with these activities by offering this newest cataract correction option."
Mattax Neu Prater Eye Center is a multi-specialty ophthalmology practice with multiple locations across the Ozarks. They provide a full range of eye care, from eye exams and diagnostic services to medical and surgical treatment for eye diseases and conditions. Call (800) 995-3180 to request an appointment or learn more at mattaxneuprater.com.