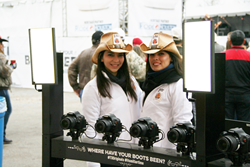 HOUSTON, TX (PRWEB) April 21, 2015
Catch the Moment, an onsite event engagement company, announced the launch of its experiential activation division, CTM Interactive. The new division, focused on developing more ways to make the onsite impact engagement fresh, fun and interactive, helps clients choose the best activation option.
The all new website introduces a plethora of new product offerings, including:

Virtual Green Screen – digitally achieve the magic of green screen without the green screen
Social Walls – live feeds of social interactions from multiple networks displayed via onsite monitors
3D Backdrops and Floors - custom 3D backdrop and flooring options for visual special effects
Studio AR - brings the fun of augmented reality to your branding including digital props and stickers
Selfie Text to Code - no special app required, this solution drives participation and social sharing.
The most exciting CTMi introduction is the Motion Matrix- destined to be a crowd favorite. This scalable, multi-camera array captures visitors in a stunning 3D brand experience. Activating the Miller Light concert stage sponsorship at Houston's annual Rodeo event, the client was able to provide a fun and exciting 3D "bullet time" experience and stay within budget.
CTMi makes make it simple for the event marketer and the agency to find the ideal activation solution, recognizing key factors such as footprint, budget, throughput, social media and activation goals.
The new division has created a platform to drive social sharing and data collection to new heights. "The more fun and engaging the onsite activity, the more likely attendees will be to share via social media, and to provide their data," says Dick Didow, CTM Interactive CEO. "People love to have, and to share photos and videos of themselves, family and friends. It's been the basis of our business over time, and now digital technology has made it more popular than ever. We put that to work to amplify the value of marketing events"
About Catch the Moment…
Catch the Moment has been creating onsite engagements for brands and agencies worldwide for over 17 years, with locally trained project managers and event staff in 20 locations across the US alone. Its newest business unit, CTM Interactive, specializes in event activation for brand marketers and agencies, featuring an unmatched range of engagement methods, delivery and social sharing processes, data capture and analytics for experiential marketing. Learn more at http://www.ctminteractive.com