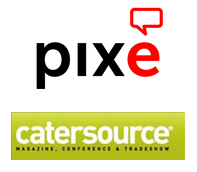 We are so happy that we discovered Pixe Social, and have been using it for our biggest trade shows and events for the past year. - Brad's Raw Foods
Columbia, MD (PRWEB) March 23, 2014
The Maryland-based startup, Pixe LLC, announces that it will be showcasing Pixe Social, the popular mobile and photo booth-based social marketing solution, in Booth 1600 at the 2014 Catersource Expo in Las Vegas, NV between March 23-26, 2014.
In an exclusive promotion, Pixe will offer a free trial of Pixe Social to the first fifty businesses to sign up in Pixe's booth during the event.
As a key partner with Catersource, Pixe is also providing the official Catersource Expo Pixe Social Photo Booth at this internationally recognized catering industry event. The social photo booths will be available in key locations on the exhibit floor, and will provide attendees with the chance to meet and engage with their peers from the industry onsite and online.
Event attendees will be provided with an opportunity to get their photo clicked in front of the official Catersource event backdrop and instantly share it on Catersource's Facebook page, as well as with their own social friends.
"Pixe Social is a revolutionary social marketing solution that leverages user-generated content while also keeping customers engaged with the brand through subsequent marketing promotions, delivering significantly enhanced online engagement and more leads within a very short period of time," said Rajiv Jain, CEO of Pixe LLC.
Pixe Social is integrated with social media services in real-time. Each photo shared from the Pixe-powered photo booth prominently displays the brand's logo and is posted with the brand's hashtags to their social media. This revolutionary mobile technology gives brands the opportunity to gain rapid viral exposure through loyal customer testimonials.
Recently leveraged by a number of leading food services providers, including the National Restaurant Association, Brad's Raw Foods and Cracker Barrel Country Store, Pixe Social has received rave reviews wherever it has been showcased.
"We are so happy that we discovered Pixe Social, and have been using it for our biggest trade shows and events for the past year. The photo booth is always a huge hit with our fans and everyone always comments on how interactive and well-designed it is! We love how easy it is to customize, and the enthusiasm and assistance of the Pixe Social team has been absolutely invaluable," said Natasha Shapiro, Communications & Social Media for Brad's Raw Foods.
Watch this video to see how Pixe Social can provide your brand with an expansive social reach.
About Pixe
Pixe LLC is a Maryland-based start-up providing simple social promotional solutions that take the challenge out of social media marketing by converting audiences into brand ambassadors. Launched in April 2013, Pixe's flagship social marketing solution - Pixe Social - to help boost the social presence of a number of leading brands and events including National Restaurant Association Expo, Brad's Raw Foods, and the World Culinary Showcase at NRA.
About Catersource
Catersource Magazine, Conference, & Tradeshow is the industry leader in providing educational, networking, and event solutions for caterers. Their dedication to expanding professional knowledge lends the conference the ability open its interaction with brands spanning the globe.