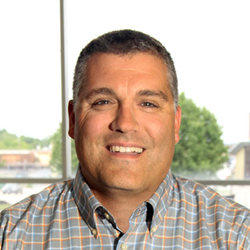 As we welcome Jeff to our team, we take this next important step to strengthen the foundation of CaterTrax and continue to set the table for a bright future.
Rochester, NY (PRWEB) July 16, 2015
CaterTrax appointed Jeff Luchetti as Chief Financial Officer effective June 1, 2015. Luchetti joins the team as part of a larger effort to transition the industry-leading catering management software company into the next phase of maturity.
The company has experienced double digit growth consistently over the past ten years. In an interview in December 2014, Co-Founders, Dan Welch and Rich Rund, described CaterTrax as a 10 year old startup. With the roll out of their new vision and mission in March and the recent expansion of executive leadership, CaterTrax is establishing its maturity past the startup level. CaterTrax focuses on slow methodical growth and has continued to expand their team to best meet the needs of their clients and partners while managing over 15% growth annually. With the addition of Luchetti, CaterTrax is taking steps to further strengthen the organizational structure of the company and stabilize long term financial goals.
"I am excited and honored to join the CaterTrax leadership team. The company has achieved a solid track record of growth by providing innovative and effective solutions for their clients. They've also developed a world-class team of dedicated professionals through a workplace culture that empowers and motivates employees. The possibilities are endless as we launch the company into the next phase of its maturity," said Luchetti.
Luchetti brings over 19 years of experience in financial and operational leadership to CaterTrax. Most recently, he served as the Chief Financial Officer of an application development and IT managed services provider. Luchetti has held several senior level finance positions at both private and public companies across the technology, renewable energy, and business services sector in which he has gained a wide range of experience in several areas including financial planning and analysis, controllership, corporate funding, operations planning, and strategic acquisitions.
"Jeff's diverse background of experiences and skills align with the needs of the company and enable him to drive the future financial strategies as well as day-to-day tactical execution. In addition to his experience and proven track record as a seasoned executive, Luchetti also represents CaterTrax's core values that are so important to all of us," said Dan Welch, Co-founder and Chief Strategy Officer.
With Luchetti stepping into the role of CFO, Welch is now able to refocus his time and energy to sustaining strategic initiatives that will push the company's refreshed vision and mission in his new role as Chief Strategy Officer. Welch will join Co-Founder and CEO, Rich Rund, in establishing long-term goals aimed at driving performance for clients and partners.
"We are excited to begin this new chapter. As Co-Owners and Co-Founders of CaterTrax, Dan and I are thankful for what CaterTrax has become due to the hard work and dedication of so many. As we welcome Jeff to our team, we take this next important step to strengthen the foundation of CaterTrax and continue to set the table for a bright future," said Rich Rund in his company announcement welcoming Jeff to the team.
For more information on the executive leadership team at CaterTrax please refer to their bios.
About CaterTrax
CaterTrax is the industry leading online solution developed by hospitality professionals proven to promote, grow, manage, and sustain profitable foodservice businesses. The co-founders of CaterTrax started out with a family-owned catering business where they developed efficient processes for managing large-scale food service operations. These processes became the core of our web-based solutions platform. CaterTrax was created by passionate professionals who understand the realities of managing high volume food and hospitality businesses. catertrax.com