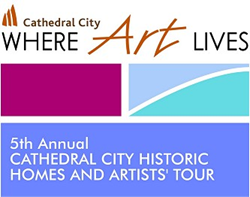 Cathedral City has long been appreciated as an art colony, just as La Quinta has
Cathedral City, CA (PRWEB) February 26, 2016
Brad Schmett, Broker Associate with Luxury Homes by Keller Williams today announced that the upcoming Cathedral City Cove Tour from 11 AM until 3 PM on Sunday, February 28, 2016 will highlight the beauty of artistic and historic homes in Cathedral City and bring a renewed round of luxury home shoppers to the Coachella Valley, to the delight of the local real estate community.
Sponsored the Agnes Pelton Society, the event includes visits to the historic homes of artists who have resided in the artists' colony, once known as Cathedral Village, in the Cathedral City Cove. Open houses will include more than 15 current artists who live and work in the area. Guests will be treated to a rooftop dance performance, live acoustic music, refreshments, a charming art making garden for children and the premier of a new mural by celebrated Cove artist Jessica Schiffman.
Schmett recently commented, "Cathedral City has long been appreciated as an art colony, just as La Quinta has. They both enjoy their reputations with good reason. The scenic and pristine beauty of the Coachella Valley has attracted artists for hundreds if not thousands of years from the Native American Tribes right up to today, when some of the most celebrated artists in the world live right here in our Valley. We are so fortunate to be surrounded by the breathtaking art of these gifted individuals. So many of my real estate clients purchase homes here because of the high level of culture, art and music we all enjoy."
Tickets may be purchased online or on the day of the event at Cathedral Center on Buddy Rogers Avenue in Cathedral City. Admission is only $15 for adults and children under 12 are free.
For more information on the Fifth Annual Cathedral City Cove Tour of Artists visit http://www.discovercathedralcity.com/event/5th-annual-cathedral-city-cove-home-tour-of-historic-and-artists-homes.
To find out more about investing in Cathedral City, CA real estate visit http://cathedralcityrealestateinfo.com.
About Luxury Homes by Keller Williams: Luxury Homes by Keller Williams – La Quinta, is an exclusive, elite and sophisticated group of real estate consultants raising the bar for service in the La Quinta and Palm Springs area residential real estate market.