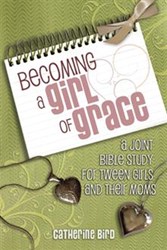 This book delves into these topics by taking a closer look at the examples provided for us by the women in the Bible.
Cedar Park, Texas (PRWEB) August 02, 2013
As a mother of two daughters, author Catherine Bird knows just how difficult the tween age can be. Depicted demographically as young girls between ages 9 and 12, tweens are at the crossroads between childhood and the teenage years. In "Becoming a Girl of Grace: A Joint Bible Study for Tween Girls and Their Moms" (published by CrossBooks), Bird gives tweens and moms a map to help tweens navigate these tumultuous years and strengthen their bonds with their mothers.
Bird explains, "Through this study, I hope to convey the importance of joint scripture study between moms and their tween daughters. As life picks up speed, our tween girls begin to spend more time with friends and participating in extracurricular activities. Reading the Bible sometimes becomes less of a priority when more exciting options come along. I wanted to write a study that encouraged scripture study and meaningful dialogue with my daughter, but I wanted it in a fun, easy-to-follow format that fits into our busy days."
The book takes a closer look at some of the leading ladies of the Bible and the positive characteristics they model for modern tween girls. It also provides "Mom and Me" weekly activities in each chapter that are enjoyable and meant to be inclusive for all family members. Through studying Scripture and fun, meaningful activities, tweens will build the foundation for a relationship with Jesus Christ and learn to take the lessons taught by women of the Bible and apply them to their modern lives.
"Coping with mean girls, feeling left out of a group of friends, learning to like yourself and dealing with bullies are not new social dilemmas," writes Bird. "This book delves into these topics by taking a closer look at the examples provided for us by the women in the Bible."
"Becoming a Girl of Grace"
By Catherine Bird
Softcover | 6 x 9in | 94 pages | ISBN 9781462728312
E-Book | 94 pages | ISBN 9781462728329
Available at Amazon and Barnes & Noble
About the Author
Catherine Bird began her career in high-tech public relations, but left the corporate arena for the not-for-profit world and the opportunity to better her community through partnerships with local nonprofits. She founded Girls of Grace Ministries, which works to strengthen the relationship between tween girls and their mothers through scripture study and fellowship. She lives with her husband and two children in central Texas.
CrossBooks, a division of LifeWay Christian Resources of the Southern Baptist Convention, is a Christian publishing imprint committed to bringing more Christian voices into the publishing industry. Established authors, first-time authors, and authors anywhere in between can meet their goals and fulfill their vision for their books by publishing with CrossBooks. CrossBooks' innovative style of publishing blends the best of traditional and self-publishing. While our authors contribute monetarily to cover the cost of publishing, we maintain a strict moral and quality standard that every manuscript must meet for us to publish. For more information on publishing your Christian book with CrossBooks, log on to crossbooks.com or call 1-866-879-0502.