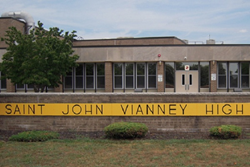 "As Catholic educators, a strong emphasis is placed on blending academic performance with social responsibility, and that's best exemplified through active community service," - Kelly Meany, Alumni and Public Relations Coordinator
Holmdel, NJ (PRWEB) February 20, 2017
Numerous local charities and causes benefitted this holiday season from the efforts of students at Saint John Vianney High School. Athletic groups including cheerleaders, swimming and hockey teams became deeply involved in school-organized charity efforts, as did collegial organizations like The Social Justice Club, Military Support Group and Key Club, among others. Each contributed time and resources to raise funds, provide gifts or offer valuable companionship to individuals in need.
The hockey and swim teams, along with their coaches and parents, together collected money to support the RAINE Foundation, providing financial assistance to local families in need. The Social Justice Club collected food for the Backpack Crew, a charity providing daily meals to children in need in the Holmdel area. Cheerleaders sold pink shirts to raise money for local breast cancer support group Breast Intentions. The school's 'Light A Candle' chapter made hundreds of homemade birthday cards for children living in group or foster homes across three states.
"As Catholic educators, a strong emphasis is placed on blending academic performance with social responsibility, and that's best exemplified through active community service," said Kelly Meany, alumni and public relations coordinator at Saint John Vianney High School. "The school's 2016 community efforts were exceptional, with some students and groups nearly doubling the achievements of last year's holiday season."
She cited the high school's involvement with Project Paul, a regional charity that receives Christmas wish requests from families with children from toddlers to teens in need. In the past, SJVHS students and their families sponsored about 100 wishes. This year, wish sponsorship doubled—it took only one week to receive 200 sponsors to support the charity's goals.
In a similar effort, student-athletes in the school's Catholic Athletes for Christ (CAC) program gave additional time and emotional companionship to residents of the New Jersey Veterans Memorial Home in nearby Edison. Nearly a dozen CAC participants assisted in various daily activities including coffee hour, bowling and exercise clubs. They also packaged more than 300 gift bags for elderly and disabled veterans. In addition, the Military Support Club collected and dispatched care package items for troops overseas, an activity it does twice a school year.
Saint John Vianney High School is located at 540A Line Rd., Holmdel, N.J., 07733. The school can be reached at 732-739-0800 or online at http://www.sjvhs.com/
Situated on 38 acres with about 1,000 students, Saint John Vianney Roman Catholic High School emphasizes a value-centered academic environment of personal responsibility and caring. Its block scheduling system of four classes at a time allows students to graduate with more credits than other institutions. Over 99 percent of graduates attend college. It offers access to early college classes at a local community college, and all students are provided digital IT tablets for classwork.