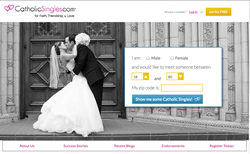 "Getting unmarried Catholics involved in their faith is extremely important".
(PRWEB) May 22, 2015
Founded in 1997 CatholicSingles.com has focused on creating an online community for single Catholics looking for love and fellowship. As the first of its kind, the goal has been to serve a population within the Church that while growing, is often times overlooked.
"We see that this group of singles, particularly those between 25-50 years of age, are always searching for more chances to meet with those like themselves. And getting unmarried Catholics involved in their faith and helping them form relationships with other Catholics is something that the Church values and is essential to the growth of our faith.", says founder David Nevarez.
This month the site if offering new members a special offer when they use promotional code BIRTHDAY during the signup process. Coinciding with their anniversary, this offer is good until May 31st, 2015.
Potential members can join by visiting the site at http://www.CatholicSingles.com.
Owned and operated by practicing Catholics, CatholicSingles.com provides an opportunity for singles to grow in their faith while making new friends for fellowship and marriage. Founder, David Nevarez, and his wife Tricia, were just one of the many success stories and will soon celebrate their 4th wedding anniversary.