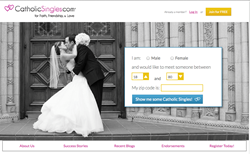 (PRWEB) January 27, 2015
CatholicSingles.com is looking for couples to share their stories about how they met on their site. With Valentine's Day approaching CatholicSingles.com aims to reconnect with couples who have married after meeting on the site, and then share their story with others. "Often couples who marry after using our site don't always have the chance to follow up with us and tell us how they are doing. We want to change that!", says David Nevarez, President of Catholic Sites.
To contact the site married couples are asked to message CatholicSingles.com their Success Story using the Contact Us link on the bottom of the site's homepage and include details about their journey, the first time they met and when they were married. Catholic Singles will then follow up with the couples and choose a few that will be highlighted on the site. Additionally a few will be chosen to receive a gift certificate for a dinner out compliments of CatholicSingles.com. Those couples will include the couple with the most creative proposal, the couple that has been married the longest and the couple who overcame the greatest distance to meet!
Interested couples should contact CatholicSingles.com no later than February 6th.
For more information, please go to http://www.CatholicSingles.com/Valentines2015
SOURCE CatholicSingles.com® is the original online site for Catholic dating and fellowship. Founded in 1997 by practicing Catholics, founder David Nevarez met his wife on the site and they have appeared together on many Catholic programs including those on EWTN and SIriusXM's The Catholic Channel. __title__ Catholic Singles]