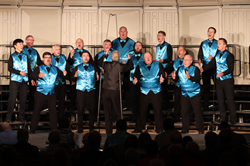 FREDERICK, Md. (PRWEB) June 08, 2019
The Frederick Catoctones took Baltimore by storm this weekend, bringing home the title of Mid-Atlantic District Southern Division Plateau AAA Champion chorus. Singers from across the region gathered in Baltimore to compete for the division barbershop chorus title. The Catoctones offered up two dynamite songs - "The Masquerade Is Over" and "A Wink And A Smile" for a group of judges from across the country.
The overall chorus champion for this year's Southern Division championship was The Virginians from Richmond, VA. Frederick trailed the overall chorus champion by just three point, in spite of Richmond's chorus being over triple Frederick's size. Frederick's winning performance this weekend ensure the chorus a spot in the District competition in the fall. Aside from competing in district competition the chorus has a busy summer and fall planned, with performances around Frederick County, as well as special invitations to sing at Camden Yards and elsewhere around the region. In September, the Catoctones will offer a hometown concert at Frederick Community College, bringing together singers young and old from Frederick. Frederick Children's Chorus and Hershey, PA's Parkside HArmony will share the stage with the Catoctones to celebrate the joy of acapella singing. The Catoctones are Frederick's premier all-male singing ensemble. For over fifty years, the Frederick Catoctones have been proudly representing Frederick County as ambassadors of song both in the county and beyond. They sing for the community at countless local events and have brought the voices of Frederick to Washington, Baltimore, and beyond.
More information about joining the Catocotones or hearing them sing can be found at
Catoctones.com.
Further press inquiries and visits are welcomed. Inquiries can be submitted at
catoctones.com/contact-us/