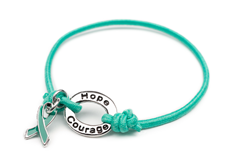 Minneapolis St. Paul, MN (PRWEB) December 31, 2014
Supportstore announces immediate availability with same day shipping of our full 9-color assortment of Supportstore-designed awareness charm bracelets. The just-released white and green colors complete the assortment.
These simple, inexpensive, yet quality charm bracelets are specifically keyed to 9 colors that represent most causes.
The Supportstore Stretch Charm Bracelets includes color-keyed stretch cord, hand tied adjustable knots, and a lead & nickel free double-sided metal oval that says, "Hope Courage, Faith Love." Next to the oval hangs a color-filled awareness ribbon charm. Each bracelet is individually bagged.
Only available at supportstore.com, the retail price is $4.99 with quantity pricing as low as $2.99. Shipping is a flat $3.99 to US destinations or free for orders over $40.
The available colors and example related cause include:

white (Bone Cancer)
black (Skin Cancer and Melanoma)
red (Heart Disease)
blue (Colon Cancer)
orange (Leukemia)
teal (Ovarian Cancer)
purple (Alzheimer's Disease)
green (Muscular Dystrophy)
yellow (Support our Troops)
The Supportstore Stretch Charm Bracelet is an alternative to SupportStore's popular debossed rubber wristbands. View the full selection with high resolution photography on the SupportStore Stretch Charm Bracelets assortment page.
About SupportStore
SupportStore is an online only retailer of items people and businesses use to "shout out what they care about."
Customers choose from 500 in-stock items that ship same day, such as a "Hope Courage Faith" green silicon rubber wristband or a green enamel on metal lapel pin. Customers can also choose to create a custom designed magnets in quantities of 125 or more, many delivering within 10 days.
SupportStore's "products with a purpose" are low cost ways to help create awareness and raise money for causes that people care about most, primarily through:
--indoor/outdoor oval, circle and ribbon car magnets
--silicon rubber wristbands
--metal lapel pins
--embroidered lapel ribbons
--clear vinyl static clings
With a total inventory of over 500,000 items, SupportStore can supply both consumer needs and businesses with products for fundraising events, awareness programs or memorials.
SupportStore was founded in 1999, has 7 employees, a warehouse in St. Louis, and annually donates a portion of health awareness item profits to charity.
###