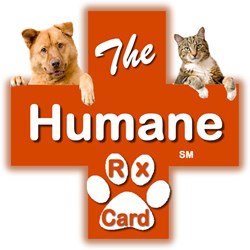 This is a win-win for the community – there's no down side. We're excited to be able to give something of value back to the community we serve! - CAHS Director, Scott MacKenzie
Charlevoix County, MI (PRWEB) October 16, 2013
Cause Rx, a national provider of prescription discount programs, has teamed up with the Charlevoix Area Humane Society (CAHS) to provide Humane Rx Cards to consumers looking for much-needed relief from the high cost of prescription medications. The cards, which are provided free-of-charge, also help to meet the needs of the Charlevoix Area Humane Society. Cause Rx donates $2 to the shelter for every prescription discounted with the cards.
The mission of the Humane Rx Card Program is two-fold. First, to raise the awareness of the ongoing needs of animal welfare groups and help provide funds to meet those needs. And second, to educate the public about an under-utilized tool that improves consumer access to medications needed to get and stay healthy.
Nothing good comes from people not taking their medications as prescribed. Research suggests some 125,000 premature deaths and an estimated $300 billion dollars of added healthcare costs each year are directly attributed to this phenomena, also known as "medication non-adherence". In 2010 alone, 48 million Americans, ages 19-64, did not fill a prescription due to cost – a 66% increase since 2001. The Humane Rx Card provides renewed hope to those struggling to pay for their prescriptions.
Everyone benefits from having a Humane Rx Card in their purse or wallet. There's no paper work to complete; no income, age, or residency requirements, or pre-existing health exclusions - everyone qualifies for the card. Even people with the best prescription coverage should carry a card, because cards provide discounts on medications not covered by insurance; they may produce a lower price than a co-pay; they can be used during a temporary lapse in coverage; they can be used while working to meet a deductible, and they can be shared with under or uninsured family and friends.
The ready-to-use cards are accepted at most pharmacies nationwide, including CVS, Walgreens, Rite Aid, Walmart, Meijer, Kmart, Kroger, Glens, and more. Consumers get immediate savings on both brand and generic prescriptions, up to 75% off, by simply showing the card to the pharmacist and asking for their discounts. Cards never expire, can be shared with others, and even produce discounts on many pet prescriptions, when filled at the local pharmacy.
Cause Rx's founder, Jacqueline Kosloskey, says, "Consumers are more likely to use these cards to save on their prescriptions if they understand the financial mechanism that powers the card. Although the cards are 'free' to consumers, someone is paying for the program. Pharmacies, who benefit from the traffic that the cards produce, pay a small fee each time a card produces a discount for a consumer. Pharmacies recognize that everyone loses when prescriptions go unfilled – the consumer, their family, their medical provider, their employers, and of course, the pharmacy itself."
Medical providers, employers, community agencies, and consumers are all encouraged to request some cards to pass out to those around them. Humane Rx Cards can be requested by calling 1-855-558-PETS (7387) or by visiting http://www.HumaneRx.com/cahs. Those wishing to use a card now, to get immediate discounts, can print one online, or request a text version of the card by texting "CAHS" to (775) 773-8779.
Humane Rx Cards will also be available for pick-up at the CAHS's shelter, located at 614 Beardsley Avenue, in Boyne City, after November 1st. This is not insurance.