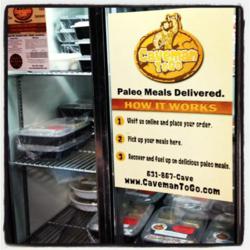 Long Island, NY (PRWEB) July 07, 2013
Paleo for Crossfit is increasingly in demand, given the fact that the world now recognizes the amazing benefits of the caveman way of life. With pure, wholesome and nutritious meals entering the body, regular workouts bear a much sweeter fruit and the person truly feels evolved and rejuvenated. Contributing immensely to good health, the Paleo diet system ensures that no chemicals or harmful substances enter the body, hence saving it from any type of internal damage. Delivering delicious, mouthwatering Paleo meals, CavemanToGo cooks up the best of Paleo. But who really is behind the signature CavemanToGo.com taste? Chef George!
A Paleo dish is solely composed of ingredients extracted right out of Mother Nature, and kept unprocessed, to ensure utmost purity. In order to make the meal delicious, one really has to employ a decent bit of skill and expertise. For this level of professionalism, experience in the conventional cooking arenas is essential. Employing that skill into cooking up Paleo for Crossfit dishes is what we achieve here at CavemanToGo.com Chef George is renowned for the 15 years of his life that he has spent, cooking numerous cuisines from all over the world before finally adopting the Paleo way of life. His experience has no match in any other Paleo company around the area. Chef George is also very famous for his joyous personality and vivid appearance. He can readily be seen in his usual bright colored clothes, jumping around Crossfit South Shore.
To learn more about Chef George or to place an order or to check out our services, visit http://www.cavemantogo.com/. You can also visit our Facebook page at http://www.facebook.com/CavemanToGo.
About CavemanToGo.com:
Established in 2012, CavemanToGo.com is a revolutionary meal delivery service in the New York City and Long Island areas. Saving people from the necessary hassles of cooking up a Paleo meal, the company houses some of the best Paleo chefs in the region and provides a prolific delivery service which ensures that the meals are delivered whenever and wherever the client wants. Obtaining food stuff from the freshest sources and suppliers, the company guarantees a pure, wholesome, warm meal, at your home, office or gym. Introducing variety in its menus every day, the company has successfully established a significantly large clientele.
Contact:
Caveman To Go
631-867-CAVE
info(at)cavemantogo(dot)com
http://www.cavemantogo.com/