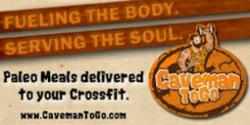 Long Island, NY (PRWEB) July 08, 2013
A Paleo meal delivery is what people seek in this rapidly evolving era of ubiquitous fast food. Even though the diet plan isn't very prevalent, a large number of people usually wish to include it in their lives, hoping to achieve the benefits which the caveman way of life promises. With meals composed purely of natural, unprocessed ingredients, paleo for crossfit is increasingly in demand. CavemanToGo.com features exclusive Paleo meal delivery options right to your doorstop, whenever you want it! Changing menus each week, the company has published the menu for the first week of July on their website.
The menu starts off with the Monday lunch, structured together Asian Sesame Steak Roasted Roots, Braised Asparagus. Along with that, Stuffed Peppers Sweet Potato puree, Wilted Spinach is also available. In dinner, clients have the liberty to choose from the Caveman's Blackened Chicken, Herb Roasted Boneless Pork Chop and the Zucchini Wrapped English Meat Loaf. For Wednesday, CavemanToGo.com is offering Chili Chicken Fingers with Lime Aioli along with Bacon Wrapped Salmon for Dinner. The Menu throughout the week is full with exquisite menu items to fulfill anyone's appetite.
Each meal is ideal for a single serving and is composed solely from unprocessed, natural, wholesome ingredients. The food is perfectly capable of being reheated for best taste and may also be refrigerated for use up till four days. The company delivers right to any local Crossfit Gym or directly to an office when 10 or more people are ordering.
To place an order or to check out our services, visit http://www.cavemantogo.com/. People interested can also visit our Facebook page at http://www.facebook.com/CavemanToGo.
About CavemanToGo.com:
Established in 2012, CavemanToGo.com is a revolutionary meal delivery service in the New York City and Long Island areas. Saving people from the necessary hassles of cooking up a Paleo meal, the company houses some of the best Paleo chefs in the region and provides a prolific delivery service which ensures that the meals are delivered whenever and wherever the client wants. Obtaining food stuff from the freshest sources and suppliers, the company guarantees a pure, wholesome, warm meal, at your home, office or gym. Introducing variety in its menus every day, the company has successfully established a significantly large clientele.
Contact:
Caveman To Go
631-867-CAVE
info(at)cavemantogo(dot)com
http://www.cavemantogo.com/