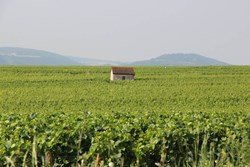 'I was born into a family of wine makers, I grew up drinking wines from Burgundy, and Rhone to the south,' stated Francoise Chanut.
San Francisco, California (PRWEB) October 16, 2013
CaveToCellar.com http://www.cavetocellar.com, a new import wine company seeks to deliver excellent French Wines from select domaines to consumers and collectors in the United States at similar prices to what they would pay right at the winery cellar door in France. Eliot Dresselhaus and Francoise Chanut have family ties in Burgundy that span generations, and they have often marveled at the number of excellent wines in France that have never made it to the US. They reside part of the year in Burgundy and have personal relationships with many vintners there.
Wines from Burgundy and the Northern Rhone, if they make it to the United States, can often sell for prices well above what they cost in France. In many cases, US consumers are paying extra margin for middlemen such as agents, importers, distributors and retailers, leading to higher US prices.
Mr. Dresselhaus decided to import wines for his own cellar, and found that friends enjoyed them too. He subsequently imported more for himself and wanted to share these finds with friends, and thus the idea for CaveToCellar.com was born.
"I visit France every year to visit family, and I want people in the US to have access to these wines just like I do," Dresselhaus commented, "through CaveToCellar.com they can enjoy these wines just like my family can. We have sourced some excellent wines."
Dresselhaus delights in finding wine makers that deserve to be in the US. Boyer-Gontard, Philippe et Vincent Jaboulet, Pierre Morey, Francois Merlin, Domaine Besancenot are just a few of the fine estates that he has found.
Over the years, Dresselhaus has built his own cellar and understands the rewards that come with having wines that you wait to drink. This practice is fairly common in France where families travel to local vignerons to select wines for their own cellars. He believes more Americans would love to cellar wines if they could do it in a cost effective way.
Dresselhaus has personally tasted and selected all of the wines that Cavetocellar imports.
The company imports and retails wines from Burgundy, The Northern Rhone Valley, Beaujolais and Champagne and presently can ship to CA, NH and DC.