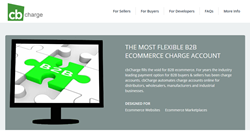 The most flexible ecommerce charge account process for B2B purchases online!
Decatur, AL (PRWEB) March 06, 2014
Since 1995, Corporate Billing has been processing charge accounts and understands B2B charge accounts. cbCharge was developed in response to industry demand from ecommerce websites and marketplaces looking for a way to automate charge accounts online. cbCharge fills the void for B2B ecommerce by automating charge accounts for distributors, wholesalers, manufacturers and industrial businesses.
For more information on cbCharge Account Program, visit http://www.cbcharge.com.
cbCharge account has no hidden fees or interest charges for the buyer or seller. cbCharge will purchase each transaction less a low, one-time processing fee from the seller; there are no fees to the buyer. The seller can turn their online sales into cash with no credit risk. cbCharge will pay the seller within 24 hours on B2B Ecommerce website sales and will handle all billing, statements, credit and collection processes.
cbCharge offers flexible charge accounts, industry driven payment terms and higher credit limits for buyers. The buyer can purchase online today and receive a monthly statement for all purchases. cbCharge has no credit cards to manage and can be added as an additional payment option to any existing B2B website or marketplace.
cbCharge offers the buyer and seller online access to easily review all payments, statements, and invoices. Our API offers instant credit checks and allows charges to be submitted real-time or daily.
For more information on cbCharge Account Program, visit http://www.cbcharge.com.
Corporate Billing LLC began in 1995, with a straightforward concept of turning commercial accounts receivable into instant cash for our clients. It was a simple idea that filled a void between traditional banking and equity financing. Our solution for providing businesses with timely cash has proven popular. Since 1995, we've given over 450 clients access to the capital they need. Our flexibility in offering customized solutions has earned us clients from a range of industries including automotive, trucking and manufacturing companies.